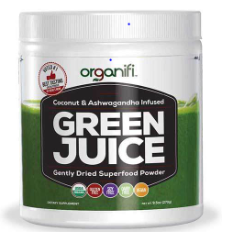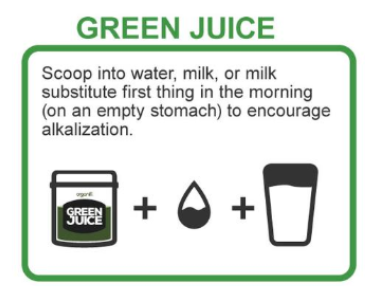 Organifi Green Juice: Reset.
We recommend taking your Green Juice first thing in the morning. It's designed to reduce your cortisol levels, curb your cravings, and gently detox anything in your system that isn't supporting your health and happiness.
Consumption Instructions
Directions: Add one serving (one scoop) to 8-10 oz of water
Serving Size: 9.8 g.
Servings Per Container: 30
Additional Details:

Time of day: Morning or mid-morning. Can be taken throughout the day around workouts, between meals, and during times of desired benefits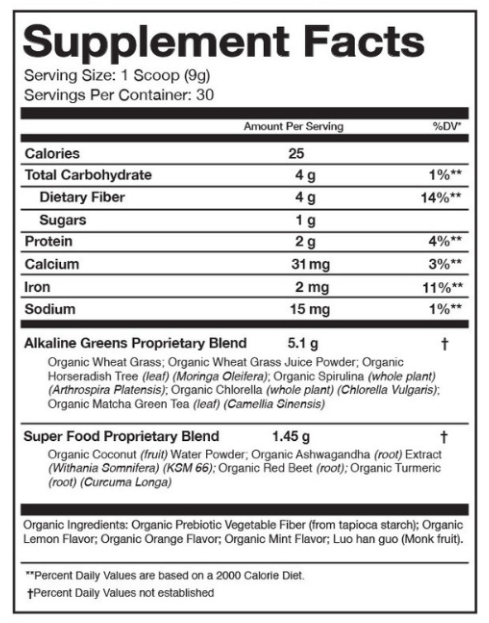 PRODUCT SUMMARY
INGREDIENTS
Organic Wheat Grass Powder Organic Nutra Grass Wheatgrass Juice Powder Organic Moringa Powder Organic Spirulina Powder Organic Chlorella (Cracked Cell Wall) Organic Matcha Green Tea Organic Coco Organic Coconut water freeze-dried Powder Organic KSM-66 (Ashwagandha) Organic Beet Root Powder Organic Turmeric Powder Organic Vitafiber Tapioca Powder Flavor Lemon/Orange/Mint/Spearmint Organic Monk Fruit Organic Lemon Juice Powder
BENEFITS
Detoxify daily with ease. Boost immunity and defenses. Increase weight loss safely.
Shelf Life 24 Months (2 years)
Launched: Oct. 14, 2014 Relaunch: Aug 31st, 2019
Price: $69.95 One Time, $59.46 Subscription
Certifications: USDA Organic, Vegan, Dairy-Free, Gluten-Free, Soy Free, Non-GMO
Formulation USP Organifi green juice is an all-organic green powder that helps support weight management, boost metabolism, increase energy, increase detoxification and alkalization, and improve mental clarity. Uniquely formulated with Ashwagandha, Matcha, Moringa, and Chlorella to enhance these benefits.
Positioning & Key Differentiators
Positioning: Support increase in detoxification & alkalizationPromotes hormonal balance & immune support. Aids in increasing energy and boosting metabolism promotes mental clarity
Key Differentiators: Great taste with on the go convenience. Premium Ashwagandha 3rd party clinical trial for weight loss, cholesterol, and quality of life
FEATURED INGREDIENT BENEFITS
Chlorella: A type of algae that grows in freshwater. It is nutrient-rich, alkalizing and detoxifying, liver-supporting and blood cleansing. Chlorella can help remove heavy metals and pesticides from the body. It is also a potent antioxidant and immune support. It contains a high amount of chlorophyll, which will cleanse the bowels, liver, and blood.
Spirulina: Single-celled freshwater blue-green algae. Nutrient-dense, loaded with antioxidants. Has shown to boost metabolism, increase energy, decrease blood sugar and cholesterol. Also shown to decrease allergies and counteract chemical pollutants in the body.
Ashwagandha: Revered herb from the India Ayurvedic system of medicine. Potent adaptogen and tonic herb that creates balance in the body. Hormone-balancing, weight support, energy, immune support, improved mental clarity, decrease stress, improved sleep.
Wheatgrass: Rich in vitamins and minerals. May help balance the gut and alkalize the body. Has shown to remove excess iron from the blood. It is rich in chlorophyll, which will cleanse the bowels, liver, and blood.
Turmeric: This ancient medicinal root has been used for over 4,000 years to fight inflammation. Our unique recipe contains a dose that is 4 times more powerful than regular turmeric root powder! Supports healthy joints, decreases pain. Potent antioxidant, boosts the immune system, anti-viral. Supports brain, and cardiovascular health
Matcha Green Tea: Matcha comes from the camellia sinensis plant, the same plant that green tea comes from. The leaves are stone-ground into a delicate powder. Matcha is rich in catechins, a class of plant compounds that act as powerful antioxidants. It is also an energy booster, improves mental clarity and boosts metabolism. Contains 5 times more L-theanine than regular green tea. L-theanine is an amino acid that can trigger alertness, stimulates beneficial neurotransmitters in the brain and can reduce stress.
Moringa: Known as nature's most perfect multivitamin. Rich in vitamins, minerals, amino acids, and antioxidants. Detoxification, decrease blood sugar, decrease cholesterol, anti-inflammatory.
Mint: No note-able benefits.
Beets: Circulation support, blood oxygenation, and increased cellular energy. Go Beets this is an organic beetroot powder standardized to 2% nitrates.
Lemon Powder: Since this is not freeze-dried lemon powder there are no note-able benefits.
Coconut Water: hydration, electrolytes.
Ashwagandha has been called the "Indian ginseng." It's an adaptogen that works to raise your energy when you're feeling fatigued, and then relax your body when you're stressed. It also lowers cortisol, the hormone responsible for weight gain. You'll be hearing a lot more about ashwagandha as the secret gets out. Moringa was known as 'the tree of immortality' throughout Asia for centuries. Medicine men prescribed it as a youth-enhancing herb to give people glowing skin, and a clearer mind. Today, scientists call it a "miracle detoxifier" because it actually removes toxins (like metals in your water, pesticides and other chemicals) from your cells. Spirulina has 26 times more calcium than milk! Nasa even sends spirulina into space with astronauts! It's the most potent superfood on the planet. Sweetened with monk fruit - This is a zero-calorie sweetener 1000 times sweeter than sugar, so only a tiny drop was necessary for the recipe. That's why there's less than 1 gram of sugar.
Why does our founder, Drew, put so much work into each recipe? Before Organifi, Drew experienced his own miracle. He had a close friend who claimed juicing cured his cancer. So Drew did his own juice fast and went on to lose 40 pounds. After that, a bunch of his friends and family had their own health miracles. So that's when Drew quit his job and made it his life's mission to make nutrition easier for busy people like us. For that reason, every product is 100% USDA certified organic, non-gmo, vegan, and made with healing ingredients that Americans need the most.
I want to start with one product. Which one should I start with?
The most important part of starting any new transformation is determining what your goals are and how important it is for you to reach them. Many people who are just starting their fitness journey with Organifi choose to start with Organifi Green Juice for its potent detoxing properties, amazing taste, and 11 clinically-tested superfoods.
Did the ingredients in the green juice change recently, or the ratio of the ingredients? My last couple of purchases have tasted a lot different than usual.
Great question! We haven't changed any formulation, however since our products are batch produced and our ingredients plant-based and organic, the taste may vary from batch to batch. Hope this helps!
What is the main difference between the Green Juice and the Red Juice?
Organifi Green Juice is all about resetting your system, reducing stress, and curbing cravings. Powered by ingredients like spirulina, moringa, chlorella, ashwagandha, mint, lemon and more, we made this product to help detox your cells and aid in weight loss. It's also the first step to retraining your taste buds so you can replace the sugary processed foods in your diet with real, revitalizing nutrients. Organifi Red Juice is all about boosting your energy, elevating your mood, and clearing up your skin. This superfood blend is a mix of antioxidant-rich berries and brain-boosting mushrooms and herbs. With a sweet flavor (but only 1 gram of sugar from fruit), this antioxidant cocktail gives you natural energy that lasts all day. Say goodbye to the afternoon slump, and say hello to boundless clean energy.
How is it gluten-free if it contains wheatgrass as an ingredient?
The Gluten Intolerance Group, a national celiac disease support organization, has researched the gluten-free status of barley and wheatgrass. ... If the grass is cut from a growing plant and does not include the seed kernel, it should be safe for those who follow the gluten-free diet. We use pure wheatgrass with no seeds. Barley grass (just the grass, with absolutely no seeds) does not contain gluten, the protein that is thought to cause reactions in celiac disease and possibly in non-celiac gluten sensitivity. But if they have a major sensitivity always discuss with your practitioner beforehand everyone's body can react differently:)
WHY Does the Green Juice look magnetic?
This is not magnetic, it is static. The Green Juice is extremely dry, drier than our other products. When it passes through production and is going through funnels and everything, it picks up static electricity. If there is any amount of moisture added, it would lose its static. It is not magnetic though.
How many servings (scoops) do you need to take for a daily dose of veggies?
Since these are "SUPERFOODS" and not your typical "veggies"(carrots/spinach/etc.), they are not very comparable. You can get similar nutrients from our superfoods but we would need a specific FDA certification to say that we have an exact dosage of vegetables.
Does your Green Juice have a "cracked cell wall" chlorella?
Yes
Where are your chlorella and spirulina sourced from(country) and what process to break cell wall of chlorella do you use?
China - Chemical Free, Low temperature gentle physical-mechanical method to disrupt cell wall without loss of nutrients.