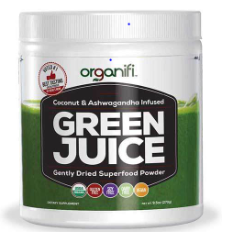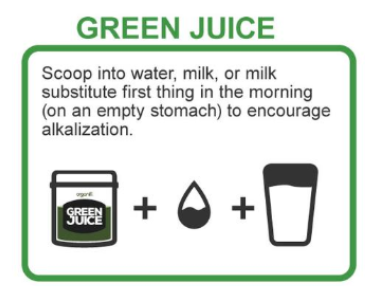 Organifi Green Juice: Reset. We recommend taking your Green Juice first thing in the morning. It's designed to reduce your cortisol levels, curb your cravings, and gently detox anything in your system that isn't supporting your health and happiness.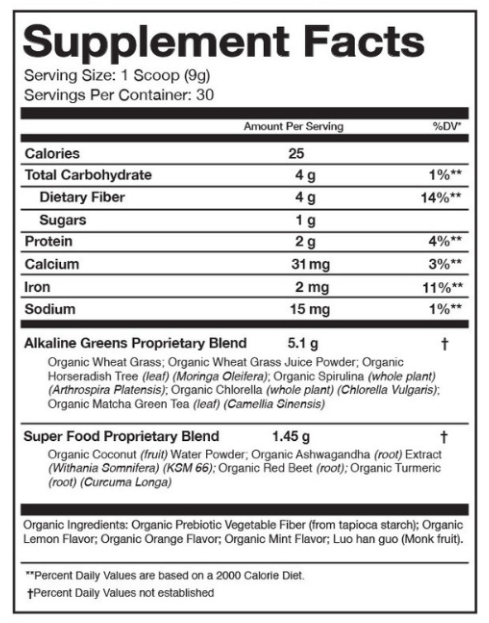 PRODUCT INFO (SUMMARIZED):
INGREDIENTS
MORINGA - CHLORELLA - MINT - SPIRULINA - MATCHA GREEN TEA - BEETS - ASHWAGANDHA - WHEATGRASS - LEMON - TURMERIC - COCONUT WATER
BENEFITS
Detoxify daily with ease.
Boost immunity and defenses.
Increase weight loss safely.
How many servings (scoops) do you need to take for a daily dose of veggies?
Since these are "SUPERFOODS" and not your typical "veggies"(carrots/spinach/etc.), they are not very comparable. You can get similar nutrients from our superfoods but we would need a specific FDA certification to say that we have an exact dosage of vegetables.
What is the main difference between the Green Juice and the Red Juice?
Organifi Green Juice is all about resetting your system, reducing stress, and curbing cravings. Powered by ingredients like spirulina, moringa, chlorella, ashwagandha, mint, lemon and more, we made this product to help detox your cells and aid in weight loss. It's also the first step to retraining your taste buds so you can replace the sugary processed foods in your diet with real, revitalizing nutrients.Organifi Red Juice is all about boosting your energy, elevating your mood, and clearing up your skin. This superfood blend is a mix of antioxidant-rich berries and brain-boosting mushrooms and herbs. With a sweet flavor (but only 1 gram of sugar from fruit), this antioxidant cocktail gives you natural energy that lasts all day. Say goodbye to the afternoon slump, and say hello to boundless clean energy.
How is it gluten free if it contains wheat grass as an ingredient?
The Gluten Intolerance Group, a national celiac disease support organization, has researched the gluten-free status of barley and wheat grass. ... If the grass is cut from a growing plant and does not include the seed kernel, it should be safe for those who follow the gluten- free diet. We use pure wheat grass with no seeds.. Barley grass (just the grass, with absolutely no seeds) do not contain gluten, the protein that is thought to cause reactions in celiac disease and possibly in non-celiac gluten sensitivity. But if they have a major sensitivity always discuss with your practitioner before hand everyone's body can react differently:)
I want to start with one product. Which one should I start with?
The most important part of starting any new transformation is determining what your goals are and how important it is for you to reach them. Many people who are just starting their fitness journey with Organifi choose to start with Organifi Green Juice for it's potent detoxing properties, amazing taste and 11 clinically-tested superfoods.
Does your Green Juice have a "cracked cell wall" chlorella?
Yes
Does Green Juice have caffeine?
Negligible amounts, a cup of coffee as about 70mgs if you have under 4mgs it does not need to be on the label and we are under 4 mgs
Can I take Green Juice while taking Thyroid Meds
Talk to Dr. but Ashwaganda has been found to magnify the effects of Thyroid meds which can become dangerous.
Is it raw? - what temp is it heated to?
There are a variety of ingredients in the formulation and not all are raw. It is not possible for some of the extracts including Turmeric and Matcha, and Aswagandha to be raw as after the ingredients are extracted and standardized to the active ingredient that are spray dried at temperatures above raw which is 118 degrees F. Advocates argue that raw or living foods have natural enzymes, which are critical in building proteins and rebuilding the body, and that heating these foods destroys the natural enzymes and can leave toxic materials behind. However, critics point out that enzymes, as with other proteins consumed in the diet, are denatured and eventually lysed by the digestive process.
Does the expiration start at the beginning of the month or is it good for the rest of the month?
The day is the beginning of the month.
What is the extraction method to isolate active ingredients in mushrooms/ ashwaganda (i.e using alcohol)
The dual extraction method is heat and solvent process. water extracts betaglucans and Polysacharides and alcohol extracts triterpines.