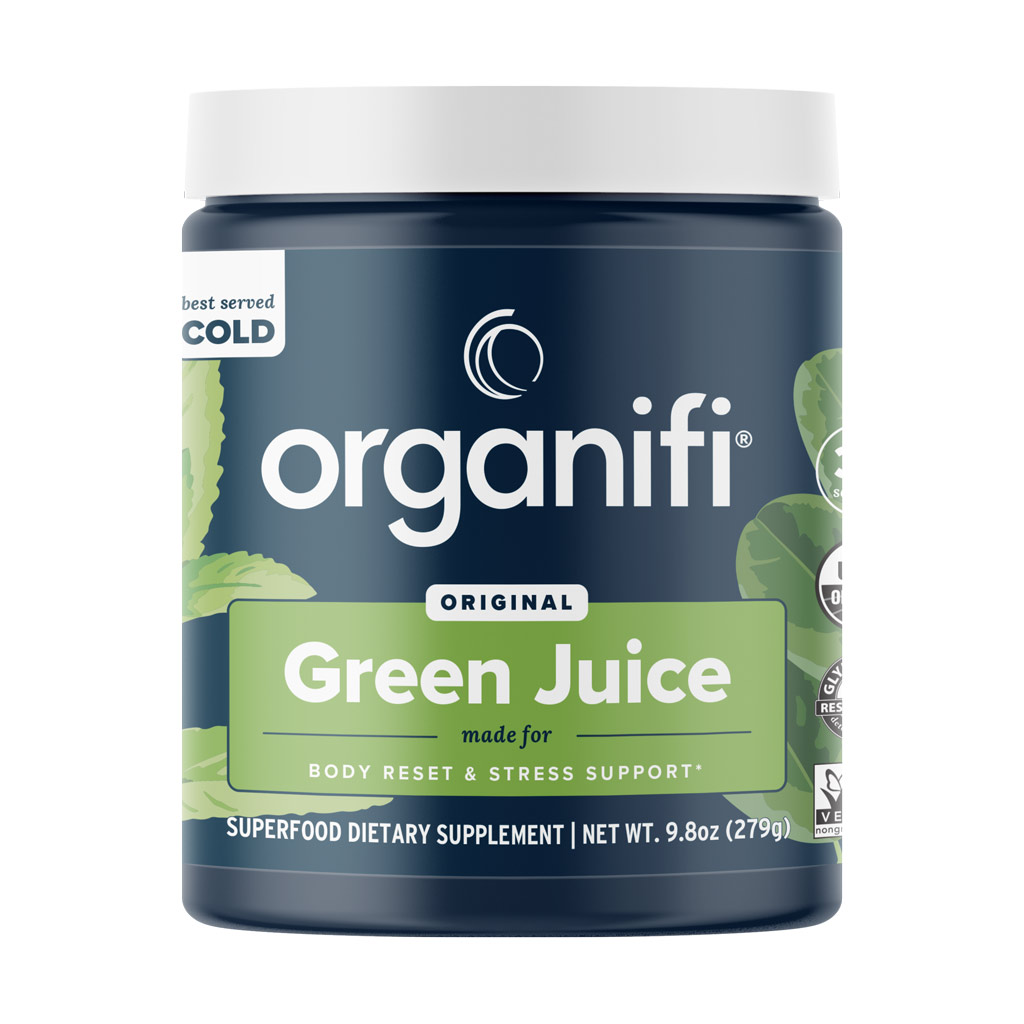 Organifi green juice is an all organic green powder that assists with healthy weight management as well as aids in decreasing cortisol levels. Uniquely formulated with Ashwagandha, Matcha, Moringa, and Chlorella to enhance these benefits.
Consumption Instructions
Add 1 serving with 8-10 oz of water or combine with beverage of choice.
Servings Per Container:

30
Additional Details:

Time of day: Morning or mid-morning and/or during times of desired benefits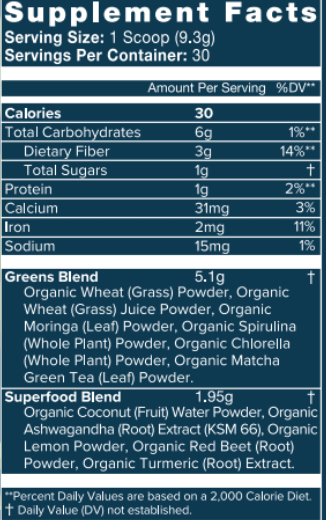 PRODUCT SUMMARY
INGREDIENTS
Organic Wheat Powder, Organic Wheat Juice Powder, Organic Moringa Powder, Organic Spirulina Powder, Organic Chlorella Powder, Organic Matcha Green Tea Powder, Organic Coconut Water Powder, Organic Ashwagandha Extract, Organic Lemon Powder, Organic Red Beet Powder, Organic Turmeric Extract, Organic Prebiotic Powder, Organic Natural Orange Flavor with Other Natural Flavors, Organic Mint Flavors with Other Natural Flavors, Organic Monk Fruit Extract.
BENEFITS
Helps promote/support a healthy response to stress, helps decrease cortisol and helps support weight management.
Shelf Life 24 Months (2 years)
Launched: Oct. 14, 2014
Price: $69.95 One Time, $59.46 Subscription
Certifications: USDA Organic, Vegan, Kosher, Dairy-Free, Gluten-Free, Soy Free, Non-GMO, Glyphosate Residue Free

Key Differentiators: Great taste with on the go convenience. 600mg of premium Ashwagandha, 3rd party clinical that supports healthy weight management and quality of life.
FEATURED INGREDIENT BENEFITS
Chlorella: A type of algae that grows in freshwater. It is nutrient-rich, alkalizing and detoxifying, liver-supporting and blood cleansing. Chlorella can help remove heavy metals and pesticides from the body. It is also a potent antioxidant and immune support. It contains a high amount of chlorophyll, which will cleanse the bowels, liver, and blood.
Spirulina: Single-celled freshwater blue-green algae. Nutrient-dense, loaded with antioxidants. Has shown to boost metabolism, increase energy, decrease blood sugar and cholesterol. Also shown to decrease allergies and counteract chemical pollutants in the body.
Ashwagandha: Revered herb from the India Ayurvedic system of medicine. Potent adaptogen and tonic herb that creates balance in the body. Hormone-balancing, weight support, energy, immune support, improved mental clarity, helps reduce cortisol which can in turn help to improved sleep.
Wheatgrass: Rich in vitamins and minerals. May help balance the gut and alkalize the body. Has shown to remove excess iron from the blood. It is rich in chlorophyll, which will cleanse the bowels, liver, and blood.
Turmeric: This ancient medicinal root has been used for over 4,000 years to fight inflammation. Supports healthy joints, decreases pain. A potent antioxidant that boosts the immune system, supports brain and cardiovascular health.
Matcha Green Tea: Matcha comes from the camellia sinensis plant, the same plant that green tea comes from. The leaves are stone-ground into a delicate powder. Matcha is rich in catechins, a class of plant compounds that act as powerful antioxidants. It is also an energy booster, improves mental clarity and boosts metabolism. Contains 5 times more L-theanine than regular green tea. L-theanine is an amino acid that can trigger alertness, stimulates beneficial neurotransmitters in the brain and can reduce stress.
Moringa: Known as nature's most perfect multivitamin. Rich in vitamins, minerals, amino acids, and antioxidants. Detoxification, decrease blood sugar, decrease cholesterol, anti-inflammatory.
Beets: Circulation support, blood oxygenation, and increased cellular energy.
Coconut Water: hydration and electrolytes.
How's it going to make you feel?
You may feel a certain bit of energy from choosing Green Juice first thing in the morning. You may have a better bowel movement throughout the day due to the positive effects Cortisol has on digestion and the added benefit of lemon juice and greens to support healthy digestion.
Increase in energy- Reduction in energy/mood spikes and dips
Better Digestion/bowel movements
Reduction in cravings
More balanced immune system
Better ability to handle stress → Stress reduction can lead to:
Better night's sleep
Easier to get out of bed in the morning
Improved relationships due to stable mood
Better function at work
Overall increase in happiness/overall wellbeing

Improved hormone balance
I want to start with one product. Which one should I start with?
The most important part of starting any new transformation is determining what your goals are and how important it is for you to reach them. Many people who are just starting their fitness journey with Organifi choose to start with Organifi Green Juice for its clinical dose of Ashwagandha, which helps reduce cortisol and helps support healthy weight management.
What is the main difference between the Green Juice and the Red Juice?
Green Juice is an all organic green powder formulated to support cortisol levels and to help reduce stress. It can also support resetting your system, minimizing cravings and managing a healthy weight. Powered by amazing superfoods and adaptogens like ashwagandha, chlorella, moringa, and spirulina, Organifi Green juice is a perfect start to your morning routine!
Red Juice is an all organic adaptogenic blend formulated to increase energy and recharge your mind. Enjoy this fruity blend of premium, organic superfoods that contains potent adaptogens, antioxidants and cordyceps that will give you lasting energy with zero caffeine. With a sweet flavor (but only 1 gram of sugar from fruit), this superfood cocktail gives you natural energy that lasts all day. Say goodbye to the afternoon slump, and say hello to boundless clean energy.
Both products are designed to supercharge your life, so it's hard to go wrong!
Are there any additional lifestyle recommendations to accompany the Green Juice to maximize the benefits?
Absolutely! If you are looking to make a positive and long term change to improve your health and reduce stress, we always recommend incorporating other healthy lifestyle habits along with the Green Juice in order to enhance and expedite the benefits. We recommend adding in at least one or more of the following:
Drink 8 glasses of clean water daily (12-24 oz right when you wake up)
Reduce amount of sugar/processed foods in diet (stressors)
Try to eat organic whenever possible
Find physical activity that you enjoy (walking, hiking, dancing)
Minimize the amount of high intensity workouts to 2-3 times per week
Get out in nature daily
Turn off Wifi at night
Cut down on use of antibacterial soaps/detergents
Incorporate a pre/probiotic regularly
Try to cut down on most common foods that cause sensitivity/intolerance

Sugar
Alcohol
Gluten
Corn
Soy

Try to properly prepare any grains/beans/legumes by soaking or sprouting
Incorporate at least 1 serving of fermented foods or a probiotic daily (Balance)

Kimchi
Sauerkraut
Keifers

Get in some daily movement (for an AM or PM walk)
Incorporate meditation or stillness into daily routine (Calm and Headspace are great apps)
Get in a minimum of 7-9 hours of sleep each night
How is it gluten-free if it contains wheatgrass as an ingredient?
The Gluten Intolerance Group, a national celiac disease support organization, has researched the gluten-free status of barley and wheatgrass. ... If the grass is cut from a growing plant and does not include the seed kernel, it should be safe for those who follow the gluten-free diet. We use pure wheatgrass with no seeds. Barley grass (just the grass, with absolutely no seeds) does not contain gluten, the protein that is thought to cause reactions in celiac disease and possibly in non-celiac gluten sensitivity. But if they have a major sensitivity always discuss with your practitioner beforehand everyone's body can react differently:)
WHY Does the Green Juice look magnetic?
It happens because of static electricity. Dry powder will sometimes experience static electricity depending on the amount of humidity/moisture in the air.
How many servings (scoops) do you need to take for a daily dose of veggies?
Since these are "SUPERFOODS" and not your typical "veggies"(carrots/spinach/etc.), therefore they are not very comparable. You can get similar nutrients from our superfoods but we would need a specific FDA certification to say that we have an exact dosage of vegetables.