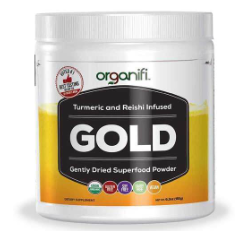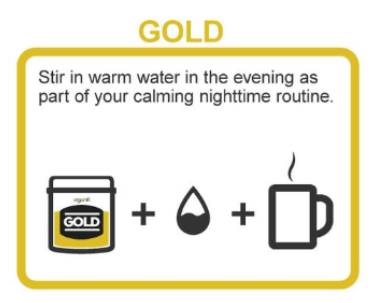 Restore
Drink it like a warm cup of tea. Feel the soothing flavor relax you from head to toe. Make it your nighttime ritual.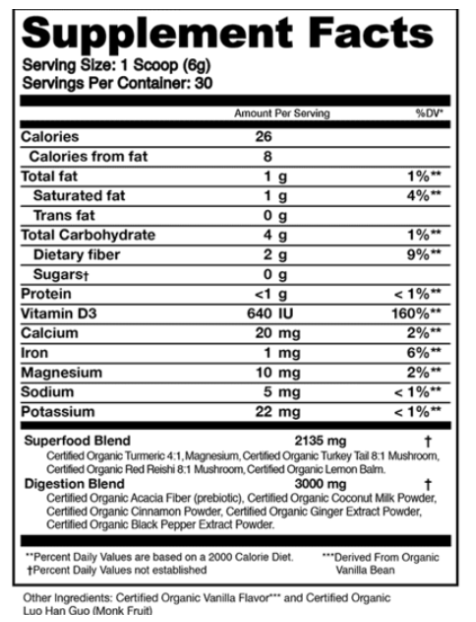 PRODUCT INFO (SUMMARIZED):
INGREDIENTS:
MAXIMUM STRENGTH TURMERIC - GINGER - REISHI MUSHROOM - LEMON BALM - TURKEY TAIL MUSHROOM - BLACK PEPPER PIPERINE - COCONUT MILK - CINNAMON - ACACIA FIBER PREBIOTIC
MAIN BENEFITS:
SLEEP
Wake up each day feeling rested
SOOTHE MUSCLES
Relax your body after a long day
SUPPORT JOINTS
Help stiff joints feel young again
Gold FAQ
What type of magnesium is in Gold?
Magnesium Chloride
Are there MCTs in the coconut milk powder?
Yes 39% of the coconut milk solids are MCTs (medium chain triglycerides)/ healthy fats
What is the measurement of the scoop?
.87 of a tablespoon
What type of cinnamon is in the Gold?
Ceylon
Is half a scoop /day consistently still effective?
The full dose is recommended for optimal Rest and Recovery.