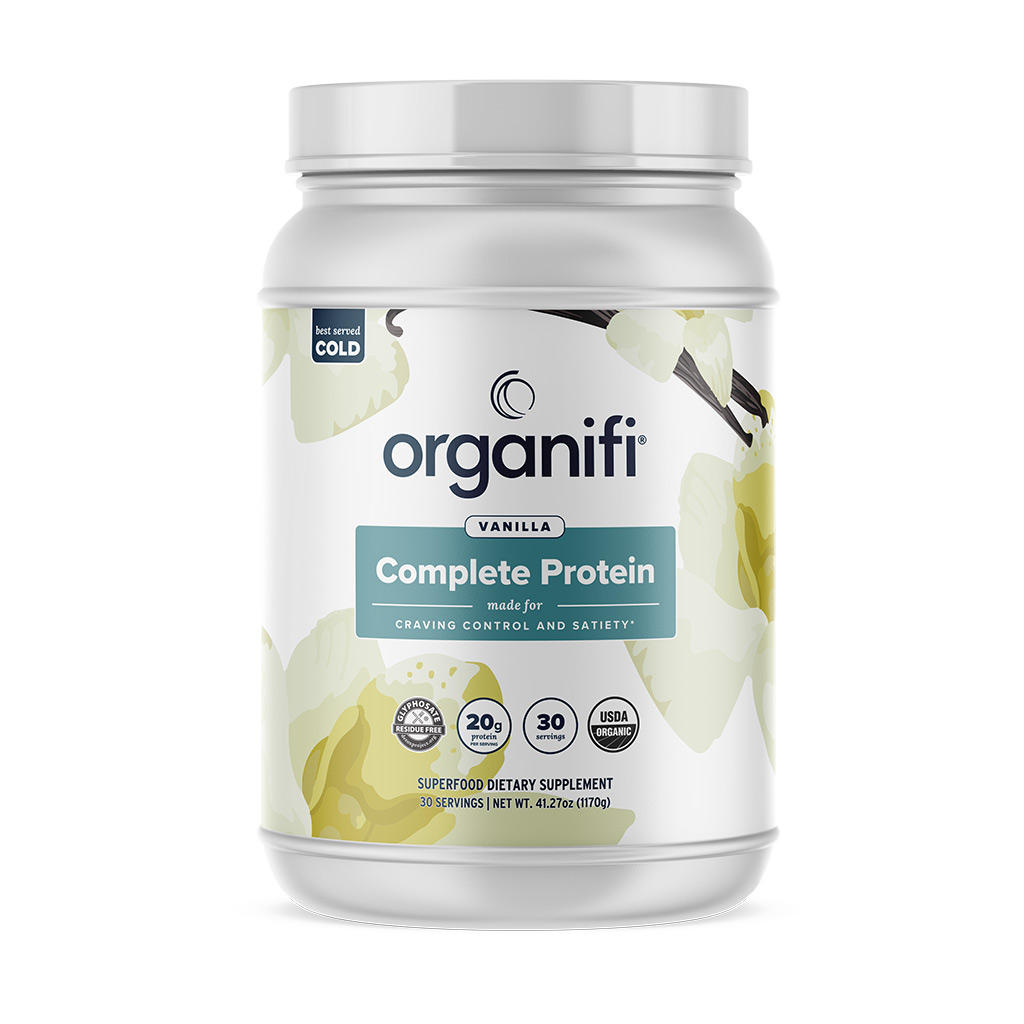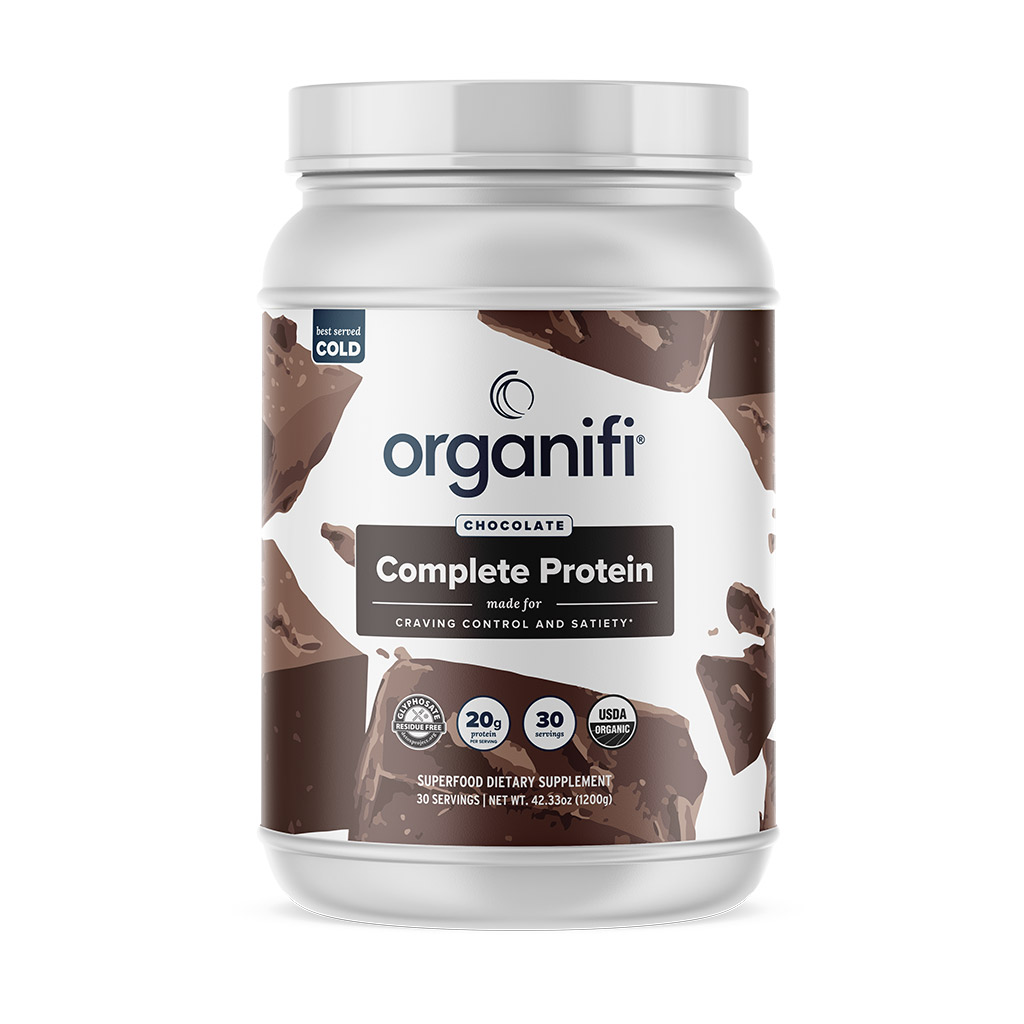 Consumption Instructions
Add 1 serving with 16-18 oz of water or combine with beverage of choice.
Servings Per Container:

30
Additional Details:
Time of day: Anytime you need an extra boost of protein.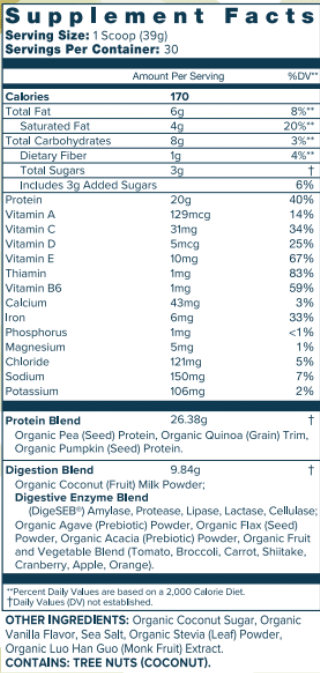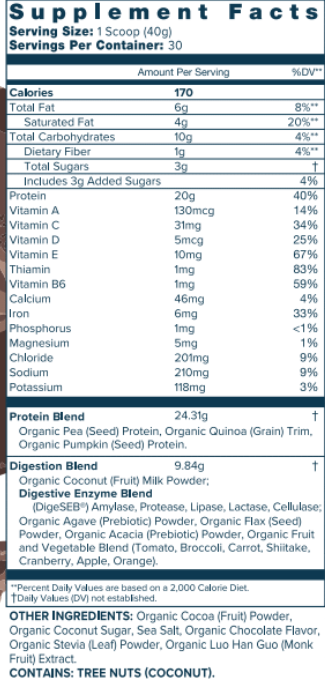 INGREDIENTS
Organic Pea (Seed) Protein, Organic Quinoa (Grain) Trim, Organic Pumpkin (Seed) Protein, Organic Coconut (Fruit) Milk Powder, Amylase, Protease, Lipase, Lactase, Cellulase, Organic Agave (Prebiotic) Powder, Organic Flax (Seed) Powder, Organic Acacia (Prebiotic) Powder, Organic Fruit and Vegetable Blend (Tomato, Broccoli, Carrot, Shiitake, Cranberry, Apple, Orange), Organic Cocoa (Fruit) Powder, Organic Coconut Sugar, Sea Salt, Organic Chocolate Flavor, Organic Stevia (Leaf) Powder, Organic Luo Han Guo (Monk Fruit) Extract.

Certifications:USDA Organic, Vegan, Kosher, Dairy-Free, Gluten-Free, Soy Free, Non-GMO, Glyphosate Residue Free
complete protein FAQ
What is the best way to use my product to get the most out of it?
complete protein is an organic, vegan protein powder and multivitamin with digestive enzymes. With 20 grams of protein it's an all in one delicious, easy-to-mix shake!
Use complete protein anytime you'd use a protein powder. Add 1 scoop to 16-18 oz of water, milk or milk alternative for a snack between meals or before/after a workout!
What results can I expect from complete protein?
complete protein is a 100% organic, plant based protein with no soy or whey. It contains a complete multivitamin in addition to digestive enzymes. It has been formulated to promote satiety and curb cravings to support weight management.
Can I use this as a meal replacement?
We don't recommend that you use complete protein as a full meal replacement on it's own as there are not enough calories to make it a meal. We recommend using it as a snack between meals or before or after a workout. Feel free to use complete protein as a base to a delicious smoothie and add in a variety of fresh or frozen fruits, veggies, superfoods, nut butters etc.
Does the Complete protein have all 9 essential amino acids?
Yes! complete protein contains all 9 essential amino acids and we achieve this by combining multiple vegan protein sources (Quinoa, Pumpkin, Pea). There aren't many vegan protein options that are complete which is why it is so important to combine the appropriate vegan proteins together to ensure you get all of the essential amino acids!