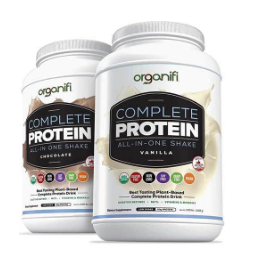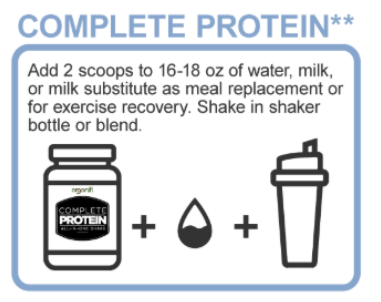 Replenish
Just Mix Two Scoops Into Almond Milk, Coconut Water, Or Even Just Water- And Stir Or Shake Until Creamy, Frothy, And Smooth. Sip And Enjoy!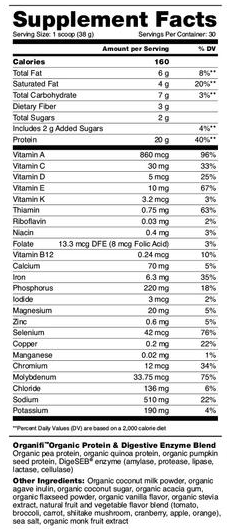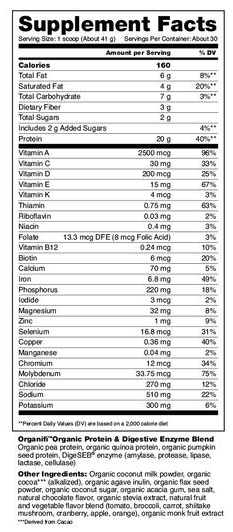 PRODUCT INFO (SUMMARIZED):
INGREDIENTS:
PEA PROTEIN - QUINOA - PUMPKIN SEED - COCONUT - MONK FRUIT - REAL WHOLE-FOOD VITAMINS - DIGESTION -SOOTHING ENZYMES - VANILLA BEAN
MAIN BENEFITS:
HIGH PROTEIN
100% Organic, Plant-Based With No Soy or Whey
DIGESTION
Complete Multivitamin + Digestive Enzymes
CONTROL CRAVINGS
Eating Healthier = Improved Weight Loss
Amino Acid Profiles


Complete Protein FAQ
Use this as a replacement of meals?
Yes! You can use it anytime you'd use a protein powder, & additionally, it is so complete nutritionally, you can replace a meal with it!! You can also use 1 scoop as a snack.
What does enzyme treated Stevia mean?
Stevia can produce a bitter, liquorice-like aftertaste. Enzyme-treated stevia is produced by the addition of glucose to stevia extracts using a-glucosyltransferase, which can effectively decrease or eliminate the bitter aftertaste of natural stevia.
What form of B12 is in Complete Protein and how is it derived?
Cyano-cobalamin
What percentage is Pea Protein?
95%
What is in the OTHER INGREDIENTS "natural fruit and vegetable flavor blend"? (which is another way to hide MSG)
This is a vitamin blend called Orgavitas. It is a whole food blend.
What form of Vitamin E is our protein derived from?
The vitamin-C, vitamin-E, vitamin-B6 and vitamin A are all harvested from real food sources. (Derived from broccoli, tomatoes, mushrooms, cranberries, ETC.
Is there Creatine in our protein?
You will NOT see Creatine listed because it is not in our product because we have Argenine, Lysine and Methionine - which compounded together naturally produce Creatine in our body.
Does the Protein contain any nuts?
Our Complete Protein does contain coconut (while not technically a nut) is considered a nut by allergen standards & must be disclosed, so any product with coconut or even coconut water can't be listed "tree nut free". It is the only nut ingredient in any of our products.