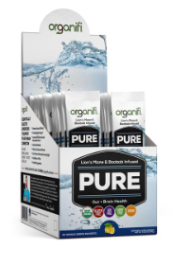 Mix 1 packet of PURE into 8 to 12 ounces of water, shake well and enjoy!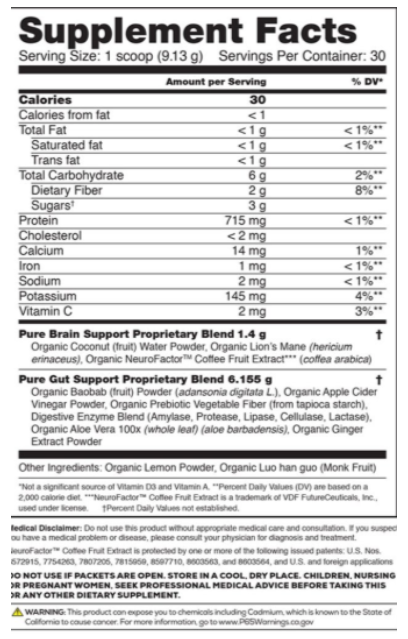 PRODUCT INFO (SUMMARIZED):
INGREDIENTS:
Lion's Mane Mushroom - Baobab Fruit - Aloe Vera - Ginger Root - Monk fruit - Digestive enzymes - CoffeeBerry / NeuroFactor - Lemon - Apple Cider Vinegar - Coconut Water - Tapioca Fiber Prebiotic
MAIN BENEFITS:
Enhance Cognitive Function, Focus, And Mental Clarity
Clear the Roadblocks Between The Brain And The Gut
Improve Digestion With A Smarter Gut Microbiome
PURE FAQ
How is Neurofactor created from coffee fruit?
NeuroFactor™ is the whole coffee fruit extract, that goes through a water ethanol extraction process, so it is more concentrated than a dehydrated coffee cherry.
How is there no caffeine in neurofactor?
Because Neurofactor™ is an extract, most of the caffeine is removed during the extraction process, which is why there are only negligible amounts left.