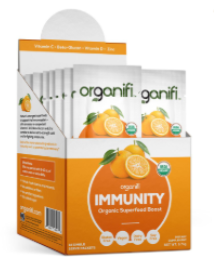 Mix 1 packet of Organifi Immunity into 8 to 12 ounces of water, shake well and enjoy!
Note: For adults, the recommended daily amount for vitamin C is 65 to 90 milligrams (mg) a day, and the upper limit is 2,000 mg a day. Although too much dietary vitamin C is unlikely to be harmful, megadoses of vitamin C supplements might cause: Diarrhea.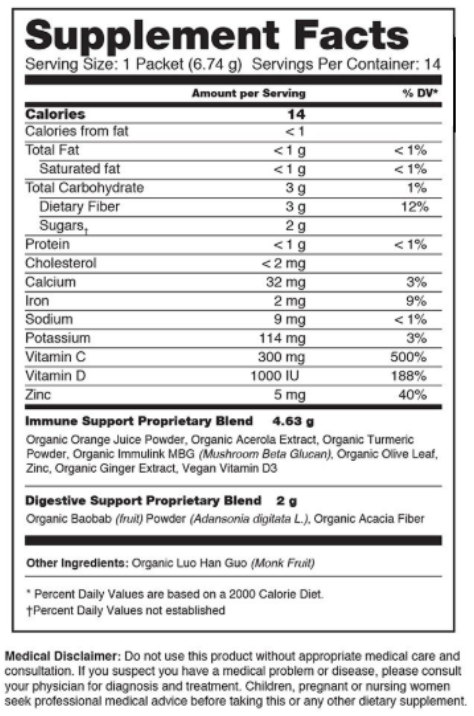 PRODUCT INFO (SUMMARIZED):
INGREDIENTS
MUSHROOM BETA GLUCAN (MBG) - ACEROLA CHERRY - ORANGE - GINGER - MAXIMUM-STRENGTH TURMERIC - ACACIA FIBER - BAOBAB FRUIT - MEDITERRANEAN OLIVE LEAF EXTRACT - WHOLE-FOOD DERIVED ZINC - MONK FRUIT
BENEFITS
A simple immunity-boosting superfood blend. Whole food, organic, non-synthetic immunity blends that are genuinely absorbable by your body.
Can help fight the symptoms AND duration of colds and flus.
Not just for flu season: boost immunity now and STOP falling for colds, flus & MANY other infections!
ADDITIONAL DETAILS
14 individual go packs in each box.
Shelf life is 24 months.
Designed to keep on hand for anytime your immune system is stressed.
Immunity FAQ
So what EXACTLY is Organifi Immunity?
It's a gently dried blend of immune system-supporting superfoods.
How should I take this product?
Mix it in water once or twice daily when you're feeling cold or flu symptoms to speed up recovery (can be taken everyday).
Take 1 serving to support the immune system and 2 servings when fighting a cold.
Consuming 2 packets in one day meets the effectiveness of a full dose of beta glucan (200 mg)

When should I take this product?
Directions: Mix one packet with 8-10 oz. of water once or twice daily.
Additional Details
Take 1 serving to support the immune system and 2 servings when fighting a cold
Time of day: anytime

Can I take this along with other products?
Not intended to be mixed with other product.

How's it going to make me feel?
Feel better, faster, when you beat a cold in half the time
If you're feeling sick, you should notice a huge boost in energy and focus in less than an hour
Cut your sick days in half this year! Take two packets as soon as you feel any cold or flu symptoms
MAGICAL QUALITIES

Many pathogens are becoming antibiotic-resistant. Beta-glucans have been used in place of antibiotics in many cases to treat infections and illness. Mushroom Beta-Glucan is an extremely potent beta glucan variant (Immulink) which is harvested in a very unique way. In the lab, ultrasonic sound waves are zapped into the reishi mushroom until it secretes pure, extra-strength beta-glucan.

Contains 500% of your daily vitamin C from organic acerola cherries

Clinical trials show 200mg of Immulink (mushroom beta-glucan) reduced upper respiratory tract infections in 2/3rds of volunteers compared to zero change in placebo group. (That's two packs of Organifi Immunity for the clinical dose)

Contains ginger & turmeric, which have thousands of studies indicating their benefits on immune system in the human body