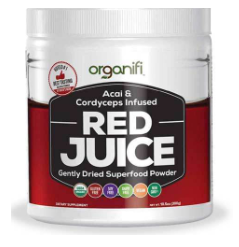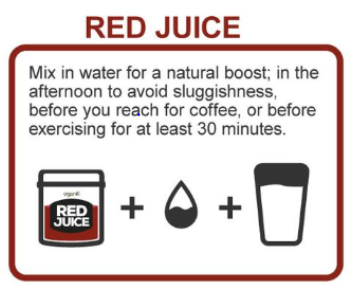 Red Juice: Rejuvenate. This fruity, refreshing superfood blend is designed to re-energize your body and mind with a wave of nourishing antioxidants. These fruits, herbs, and medicinal mushrooms work together to replenish your energy, lift your mood, and clear up your skin. We recommend drinking Red Juice in the morning or in the afternoon to recharge your body with this anti-aging fruit punch.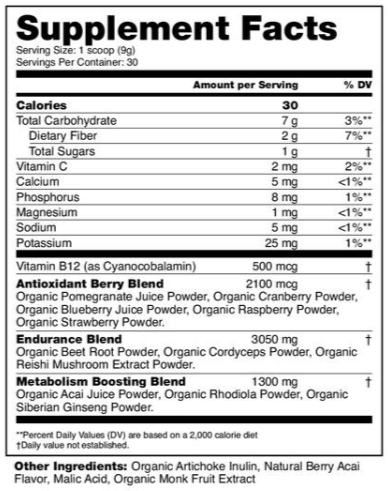 PRODUCT INFO (SUMMARIZED):
INGREDIENTS:
CORDYCEPS - RHODIOLA - SIBERIAN GINSENG - REISHI MUSHROOM - ACAI - BEETS - POMEGRANATE - RASPBERRY - CRANBERRY - BLUEBERRY - STRAWBERRY
MAIN BENEFITS:
Fight back against the effects of aging.
Feel a rush of natural energy.
Boost metabolism to the MAX.
Red Juice FAQ
What is the main difference between the Green Juice and the Red Juice?
Organifi Green Juice is all about resetting your system, reducing stress, and curbing cravings. Powered by ingredients like spirulina, moringa, chlorella, ashwagandha, mint, lemon and more, we made this product to help detox your cells and aid in weight loss. It's also the first step to retraining your taste buds so you can replace the sugary processed foods in your diet with real, revitalizing nutrients.Organifi Red Juice is all about boosting your energy, elevating your mood, and clearing up your skin. This superfood blend is a mix of antioxidant-rich berries and brain-boosting mushrooms and herbs. With a sweet flavor (but only 1 gram of sugar from fruit), this antioxidant cocktail gives you natural energy that lasts all day. Say goodbye to the afternoon slump, and say hello to boundless clean energy.
What is the source of the B12?
cyano-cobalamin
How many grams of fiber per serving?
3 grams of fiber per serving
Why is Malic acid added to Red Juice?
For flavor
Is cyanocobalamin more effective than Methylcobalamin?
Depends on the person which is more effective
Is the Red Juice keto friendly?
Most people would consider us Keto Friendly largely depending on your individual preferences since Keto is a Macro based diet. Organifi products meet the general guidelines of being low in net carbs, no sugar added, & grain free. This also makes our products suitable for low carb & diabetic dieters as well. https://fitlife.tv/everything-you-need-to-know-about-the-keto-diet/)
RED REFORMULATION DETAILS
Why change something that's already so great?
At Organifi, product excellence is number one! And here at Organifi our Research and Development team is extremely busy keeping up with the latest trends in science and nutrition, and we're always on the look-out for the best quality farms and ingredient processors. And because we want nothing but the best for our Organifi community, we've made product evolvement a priority!
So check out some of the changes we've made to our energizing, detoxifying, metabolism-boosting Red Juice!
New Concentrated Reishi Mushroom
We updated our Reds blend from a water extract to a concentrated 8:1 dual extract. A dual extract means that the mushroom has been extracted with hot water and with alcohol to extract both the water and fat-soluble components. Reishi mushroom contains very important water-soluble compounds, known as polysaccharides, and fat-soluble compounds, known as triterpenes, thus the importance of a dual extraction. The concentrated 8:1 means that for every 8 pounds of mushroom product used, you get 1 pound of extract, making it very concentrated! Reishi mushroom benefits the immune system, improves energy, mental clarity, and sleep.
New Freeze-Dried Berry Blend
All our berries are now freeze-dried for maximum nutrient absorption and increased antioxidant profile. There are no carriers in freeze-dried berries, meaning absolutely no hidden maltodextrin! A powerful blend of freeze-dried blueberries, acai, pomegranate, raspberry, strawberry and cranberries offer potent antioxidant support, energy and may increase metabolism. Even better, the new freeze-dried berry blend offers a smoother mouthfeel with a stronger punch of berry!
Removal of Inulin
Although artichoke inulin is a prebiotic food, it may cause GI distress in sensitive individuals. Because we want you to feel your best, we removed it from our Reds blend.
Removal of Malic Acid
Malic acid is a naturally occurring acid that is found in fruits, especially watermelon and apples. Although it may have important health benefits, malic acid supplements have been known to cause headaches, diarrhea, nausea and potential allergic reactions. Because we aren't big in taking chances when it comes to health, we removed malic acid from our Reds blend!
Inclusion of Lemon Powder
For an even more amazing experience, we added lemon powder to our Reds blend. Lemon powder enhances the flavor profile and offers a refreshing flavor burst.
All these amazing changes are amazing, but don't forget the energy-boosting adaptogen powders, Rhodiola root, eleuthero root, and cordyceps, that are still a part of this unique blend! And the beet-root powder, for circulation, blood oxygenation and increased cellular energy!
You're gonna love it!