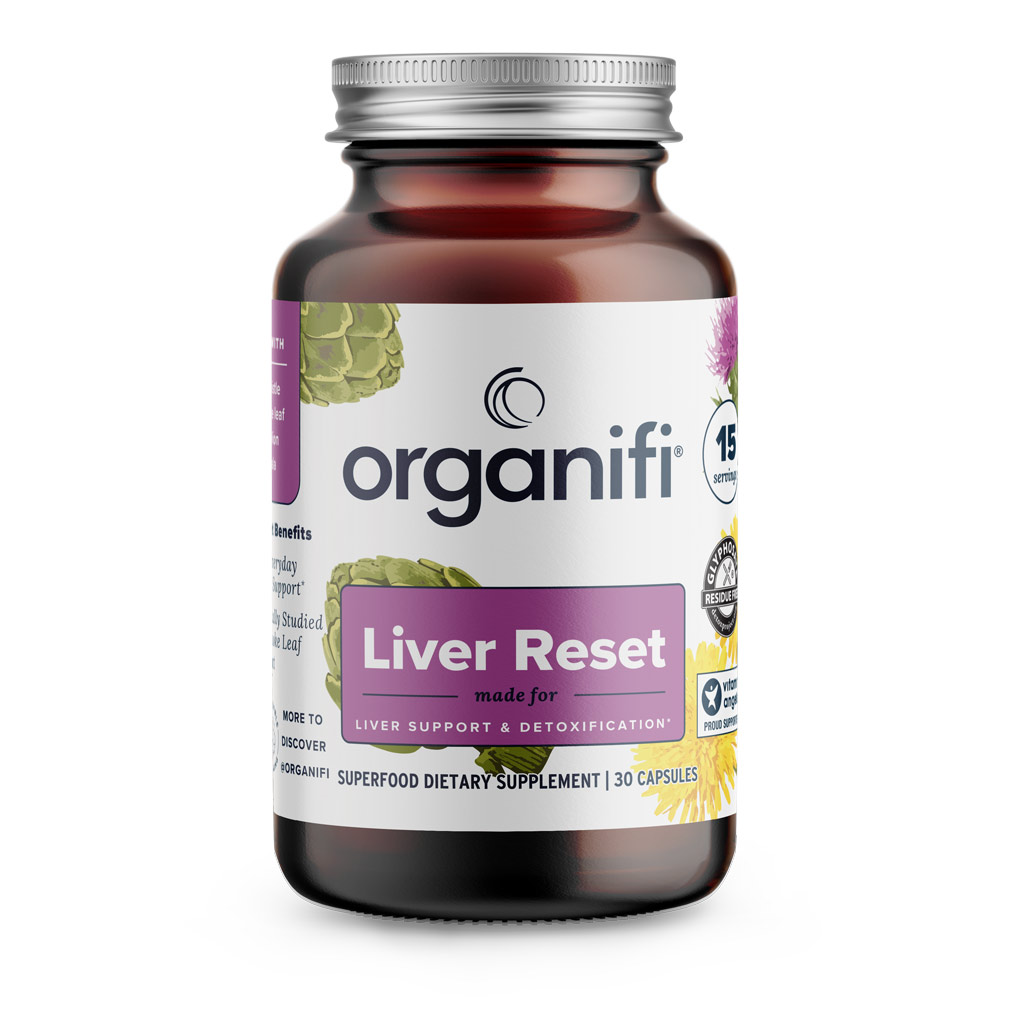 Organifi Liver Reset is a combined blend of clinically studied ingredients that use modern science and ancient Ayurvedic intelligence to deliver a potent blend that supports the liver.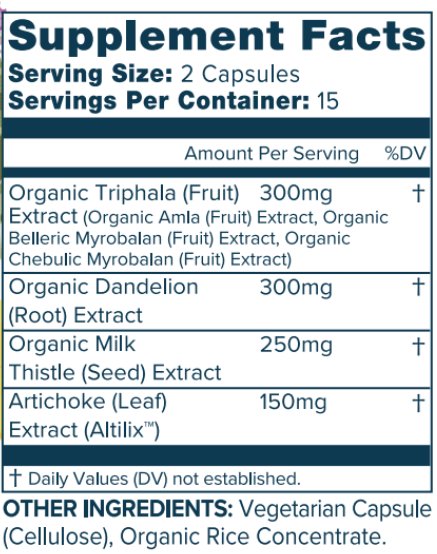 CONSUMPTION INSTRUCTIONS
As a dietary supplement for adults, take 2 capsules daily with 8 oz of water, or as directed by a healthcare professional.
Servings Per Container: 15
INGREDIENTS

Milk thistle, Artichoke Leaf Extract (Altilix), Dandelion Root, Triphala
BENEFITS:
Helps support the liver's detoxification processes
Improves digestion and supports regularity
Restores Energy
Shelf Life: 24 Months (2 years)
Launched: Oct. 14, 2014
Price: $27.95
Certifications:Vegan, Kosher, Dairy-Free, Gluten-Free, Soy Free, Allergen Free
FEATURED INGREDIENT BENEFITS
Altilix Artichoke Leaf (Clinically Proven Ingredient): Edible plant native to the Mediterranean that has a long history as both a food and a medicine. One of the top vegetables for total antioxidant content and is rich in the antioxidant glutathione. Detoxifies the liver and digestive tract. Altilix is clinically proven to decrease the fatty liver index and reduce liver enzymes, is clinically proven to improve cardiometabolic parameters (LDL) and is clinically proven to decrease insulin and improve insulin sensitivity.
Milk Thistle:A potent antioxidant, it has been used for its healing properties for over 2,000 years. It is native to the Mediterranean region. The healing herb gets its name from the milky white substance that is released when the leaves are crushed and is most well known as a natural liver protector. Promotes healthy digestive function, increases bile production, supports the gallbladder and soothes mucous membranes throughout the body.
Dandelion Root: Although dandelion is often looked at as an annoying weed, it is highly nutritious and a medicinal plant. The leaves are loaded with vitamins and minerals, and the root is a true medicine. It has a rich history of use in traditional medicine. The origins of its use can be traced back to 659 B.C. in China where it was used as a tonic. Traditional uses ranged from healing the liver to promoting healthy digestion. It is rich in antioxidants, boosts immunity and has potent antimicrobial properties.
Triphala: An Ayurvedic herbal formula used for healing for over 2,000 years, it is made from the dried powder of three different fruits. Is loaded with antioxidants and is known as a liver tonic. Widely known digestive supporting herb, improves the body's ability to absorb nutrients, gently improves elimination, naturally cleanses the colon.
MAGICAL QUALITIES
How's it going to make you feel?
Liver Reset supports the liver's detoxification processes and the liver's role in cellular energy production. By supporting our liver, we also are supporting our brain health, gut health, immune system, blood sugar levels and our heart. When using Liver Reset regularly you may start to notice any of the following:
Less Digestive issues such as bloating, gas, acid reflux or heartburn

Stronger Immune system

Clearer Skin

Easier to focus throughout the day

Feeling more energized
LIVER RESET FAQ
Are there any additional lifestyle recommendations to accompany Liver Reset to maximize the benefits?
Yes! If you are looking to make a positive and long term change to improve the health of your liver, we always recommend incorporating other healthy lifestyle habits along with Harmony. Adding in at least one or more of the following lifestyle recommendations may enhance the benefits.
Drink 8 glasses of clean water daily (12-24 oz right when you wake up)

Reduce amount of sugar/processed foods in diet (stressors)

Try to eat organic whenever possible

Incorporate movement daily

Incorporate dry brushing to stimulate the lymphatic system

Avoid using toxic personal care products

Reduce stress as much as possible