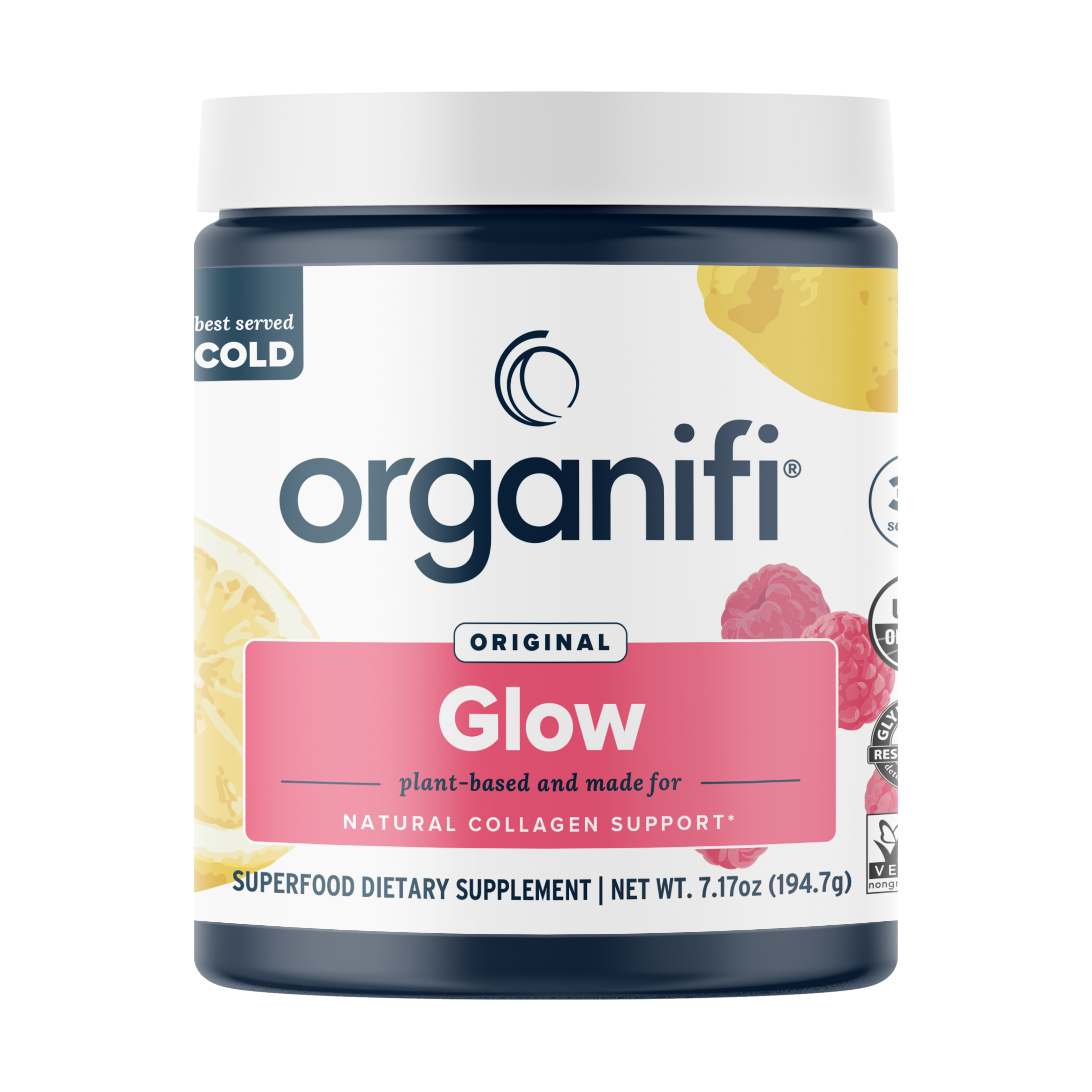 Your best complexion starts on the inside. Drink the plant-based superfood blend daily to hydrate the skin and support your body's natural collagen production. Glow helps replenish your skin for a radiant, refreshed look with a delicious raspberry lemonade taste.
Consumption Instructions
Add 1 serving with 8-10 oz of water or combine with beverage of choice.
Servings Per Container:

30
Additional Details:
Time of day: Afternoon and/or during times of desired benefits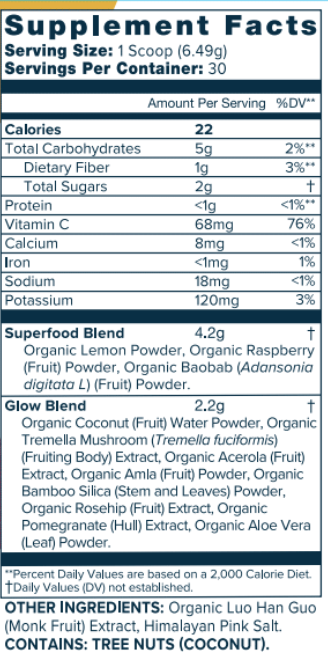 PRODUCT SUMMARY
INGREDIENTS
Organic Lemon Powder, Organic Raspberry Powder, Organic Baobab Powder, Organic Coconut Water Powder, Organic Tremella Mushroom Extract, Organic Acerola Extract, Organic Amla Powder, Organic Bamboo Silica powder, Organic Rosehip Extract, Organic Pomegranate Extract, Organic Aloe Vera Powder, Organic Monk Fruit Extract, Himalayan Pink Salt.
BENEFITS
Refreshing Raspberry Lemonade that can help naturally boost collagen production, and provide nutrients to repair and rejuvenate skin from the inside out. — restore, hydrate and support collagen production
Shelf Life 24 Months (2 years)
Launched: June 19, 2019
Price: $69.95 One Time
Certifications:USDA Organic, Vegan, Kosher, Dairy-Free, Gluten-Free, Soy Free, Non-GMO, Glyphosate Residue Free
FEATURED INGREDIENT BENEFITS
Tremella Mushroom: Increases elasticity, holds 5 times the moisture of Hyaluronic Acid Antioxidant, SOD, decrease DNA damage. Also known as "Snow Fungus." Considered in TCM as one of the top beauty supplements and was traditionally only reserved for royalty in China. During the Tang Dynasty, the most beautiful woman (whose beauty was said to put flowers to shame) attributed her beauty to taking Tremella. Resembles a jellyfish in the forest.
Amla: Is a potent antioxidant. Has been shown to increase collagen production, has been shown to support DNA repair. It is known as Indian Gooseberry, edible fruit, grown in the Middle East. Rich in Vitamin C
Rosehip: Is the accessory fruit of the rose plant. Is rich in vitamin C and is a powerful antioxidant. It has been shown to help support collagen synthesis and may protect cellular DNA.
Aloe: Contains polysaccharides that protect skin barrier, may increase skin moisture and has been shown to increase collagen production in the skin. Has the ability to improve absorption of other herbal supplements.
Silica from bamboo: Silica is an essential mineral, necessary for collagen synthesis. Bamboo naturally contains 70% silica.
MAGICAL QUALITIES
How's it going to make you feel?
You skin will feel hydrated and refreshed from the inside out! This refreshing Raspberry Lemonade that supports collagen production, can help smooth fine lines and wrinkles, and moisturizes the skin.
Glow FAQ
So What EXACTLY Is Organifi GLOW?
A gently-dried superfood powder for supporting the body's natural collagen production. Each ingredient is carefully selected for its unique skin-strengthening ability.