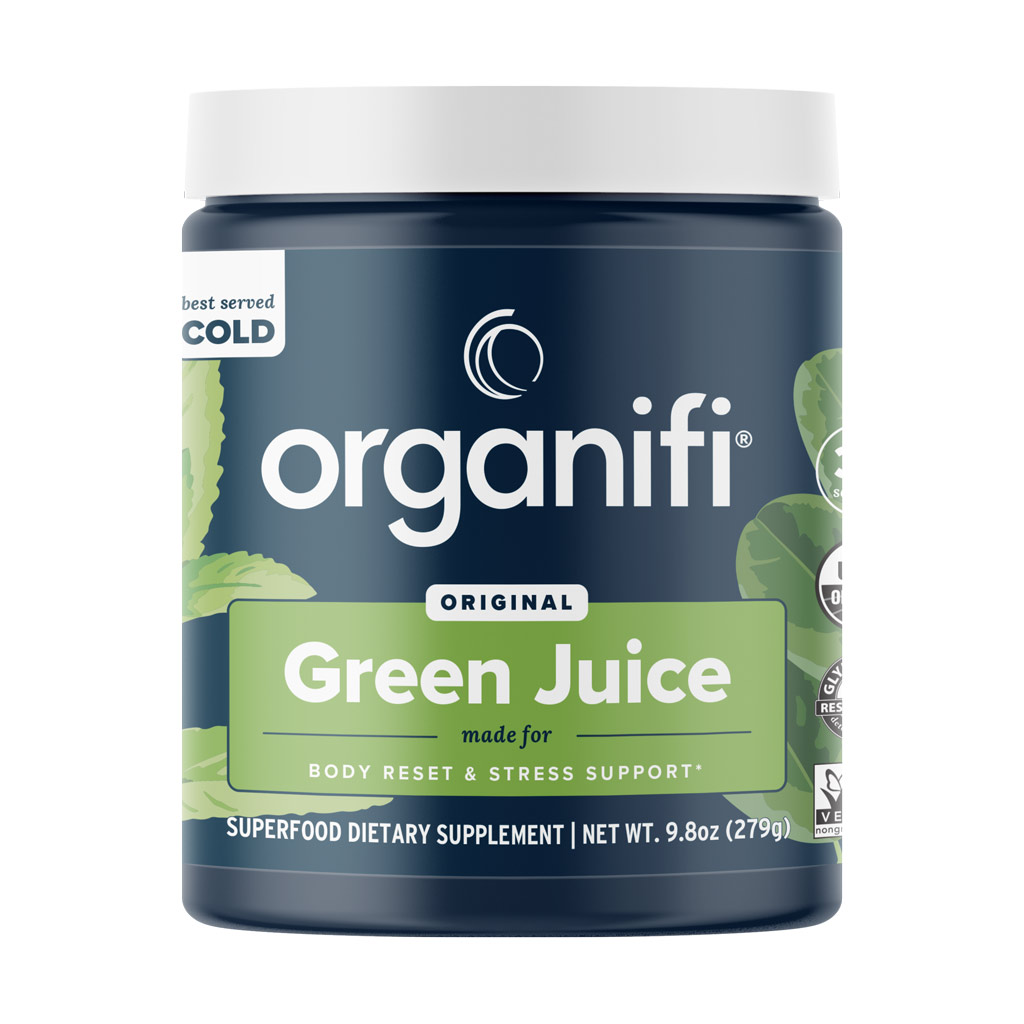 Consumption Instructions
Add 1 serving with 8-10 oz of water or combine with beverage of choice.
Servings Per Container:

30
Additional Details:

Time of day: Morning or mid-morning and/or during times of desired benefits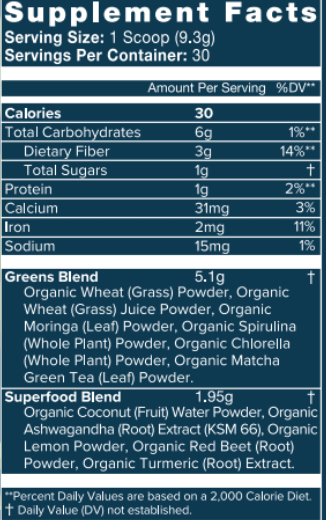 INGREDIENTS
Organic Wheat Powder, Organic Wheat Juice Powder, Organic Moringa Powder, Organic Spirulina Powder, Organic Chlorella Powder, Organic Matcha Green Tea Powder, Organic Coconut Water Powder, Organic Ashwagandha Extract, Organic Lemon Powder, Organic Red Beet Powder, Organic Turmeric Extract, Organic Prebiotic Powder, Organic Natural Orange Flavor with Other Natural Flavors, Organic Mint Flavors with Other Natural Flavors, Organic Monk Fruit Extract.

Certifications: USDA Organic, Vegan, Kosher, Dairy-Free, Gluten-Free, Soy Free, Non-GMO, Glyphosate Residue Free


When is the best time to take green juice?
When you rise, first drink an 8-10 oz glass of water. After that, we suggest taking green juice first thing in the morning as you rise. Wake up, take a deep breath and have a glass of green juice to hydrate your body after a good night's sleep.
What results can I expect with green juice?
(Results and timeframe of results may vary and are unique to each individual)
Using the product consistently will yield the best results.
You may feel a certain bit of energy from choosing green juice first thing in the morning. You may have a better bowel movement throughout the day due to the positive effects cortisol has on digestion and the added benefit of lemon juice and greens to support healthy digestion.
Increase in energy- Reduction in energy/mood spikes and dips
Better Digestion/bowel movements
Reduction in cravings
More balanced immune system
Better ability to handle stress → Stress reduction can lead to:
Better night's sleep
Easier to get out of bed in the morning
Improved relationships due to stable mood
Better function at work
Overall increase in happiness/overall wellbeing

Improved hormone balance
Are there any additional lifestyle recommendations to accompany the green juice to maximize the benefits?
Absolutely! If you are looking to make a positive and long term change to improve your health and reduce stress, we always recommend incorporating other healthy lifestyle habits along with the green juice in order to enhance and expedite the benefits. We recommend adding in at least one or more of the following:
Drink 8 glasses of clean water daily (12-24 oz right when you wake up)
Reduce amount of sugar/processed foods in diet (stressors)
Try to eat organic whenever possible
Find physical activity that you enjoy (walking, hiking, dancing)
Minimize the amount of high intensity workouts to 2-3 times per week
Get out in nature daily
Turn off Wifi at night
Cut down on use of antibacterial soaps/detergents
Incorporate a pre/probiotic regularly
Try to cut down on most common foods that cause sensitivity/intolerance

Sugar
Alcohol
Gluten
Corn
Soy

Try to properly prepare any grains/beans/legumes by soaking or sprouting
Incorporate at least 1 serving of fermented foods or a probiotic daily (Balance)

Kimchi
Sauerkraut
Keifers

Get in some daily movement (for an AM or PM walk)
Incorporate meditation or stillness into daily routine (Calm and Headspace are great apps)
Get in a minimum of 7-9 hours of sleep each night
Does green juice contain caffeine?
green juice does contain trace amounts of caffeine. The only source of caffeine comes from matcha and there is 100mg of matcha per serving which is equivalent to roughly 3-4 mg of caffeine. Just as a comparison, a regular 8 oz cup of coffee contains about 95 mg of caffeine and an average decaf cup of coffee contains about 7 mg of caffeine. Persons who are very sensitive to caffeine don't typically have issues with the Green Juice.
Is green juice gluten free?
All organifi products are certified Gluten-Free by the Gluten Intolerance Group (GIG).
Organifi Green Juice does contain wheatgrass, it is a common misunderstanding that wheatgrass is wheat/gluten containing; it is not. Wheatgrass is grass! Just the grass contains absolutely no seeds. The seeds in mature wheat are what contain the protein gluten that causes reactions in celiac as well as non-celiac gluten sensitivity. If you have an allergy specifically to wheat that is not gluten related or other grasses & are concerned; as with any other nutritional supplement - please do check with your healthcare provider.
Can green juice be taken hot?
Yes! Many people enjoy the green juice mixed with either warm water or warm milk/milk alternative. The temperature at which we would drink is not hot enough to damage or denture the ingredients.
Other than water, what would you recommend mixing green juice with?
The fun part about any of our adaptogenic juice blends is that you can really get creative with how you prepare them! Don't be afraid to experiment. Some of the fan favorites include mixing the green juice with a milk or milk alternative to create more of a matcha latte. You can also try mixing in with a smoothie, coconut water or a juice!
Is it recommended to wait to eat after drinking green juice?
No, you don't have to wait a certain amount of time to eat after drinking the green juice. We do recommend taking the green juice first thing in the morning to help balance cortisol levels and flush toxins from the body!
Why does the powder cling to the scoop?
It happens because of static electricity. Dry powder will sometimes experience static electricity depending on the amount of humidity/moisture in the air.