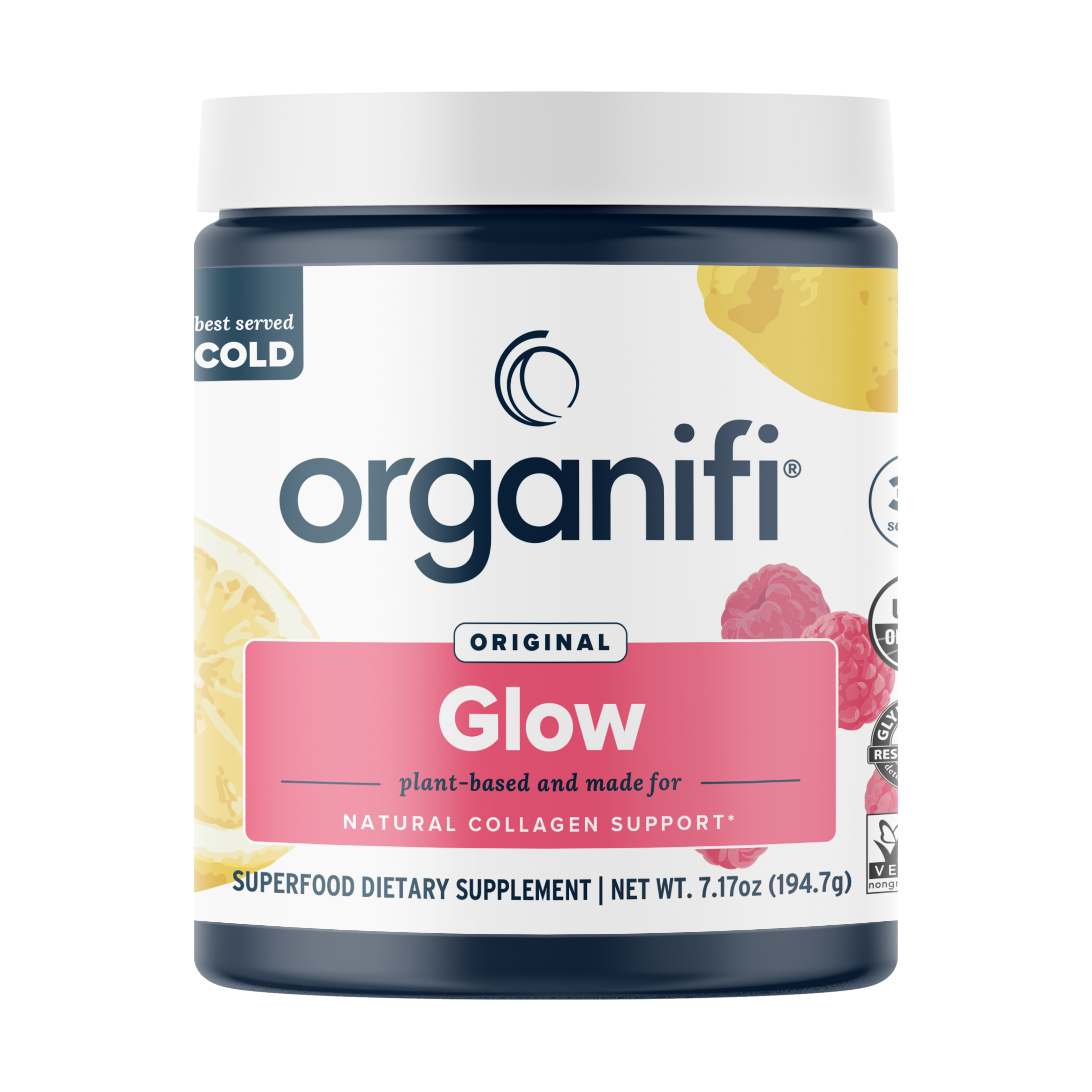 Consumption Instructions
Add 1 serving with 8-10 oz of water or combine with beverage of choice.
Servings Per Container:

30
Additional Details:
Time of day: Afternoon and/or during times of desired benefits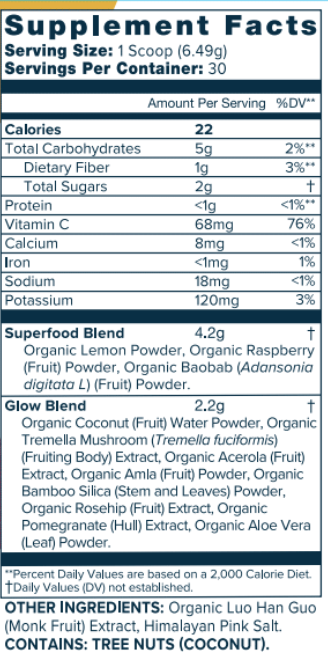 INGREDIENTS
Organic Lemon Powder, Organic Raspberry Powder, Organic Baobab Powder, Organic Coconut Water Powder, Organic Tremella Mushroom Extract, Organic Acerola Extract, Organic Amla Powder, Organic Bamboo Silica powder, Organic Rosehip Extract, Organic Pomegranate Extract, Organic Aloe Vera Powder, Organic Monk Fruit Extract, Himalayan Pink Salt.

Certifications:USDA Organic, Vegan, Kosher, Dairy-Free, Gluten-Free, Soy Free, Non-GMO, Glyphosate Residue Free
glow FAQ
When is the best time to take glow?
glow is a refreshing raspberry lemonade that can help naturally boost collagen production, and provide nutrients to repair and rejuvenate skin from the inside out. Because of the refreshing and hydrating properties, it is great to take with you on the go when you are out and about. It is meant to be enjoyed any time of the day.
Simply add 1 serving (1 scoop) to 8-10 oz of water or combine with your beverage of choice, mix and enjoy the superfood benefits!
What results can I expect from glow?
glow was formulated to hydrate the skin and support your body's natural collagen production. glow helps replenish your skin for a radiant, refreshed look with a delicious raspberry lemonade taste.
Supports / Promotes Collagen Production

Supports / Promotes Collagen Synthesis

Supports / Promotes Healthy, Brighter, Glowing Skin

Supports / Promotes Hydration

Nourishes Your Skin from the Inside out
Are there any additional lifestyle recommendations to accompany Glow to maximize the benefits?
If you are looking to make a positive and long term change to improve the health of your skin, we always recommend incorporating other healthy lifestyle habits along with glow. Adding in at least one or more of the following lifestyle recommendations may enhance the benefits.
Drinking a minimum of 8-10 glasses of filtered water daily

Eliminate/decrease processed sugar→ causes inflammation

Eliminate/decrease consumption of packaged foods

Eat whole foods with plenty of vitamins and nutrients- eat the rainbow

Decrease excess sun exposure/UV rays

Include Omega-3's: whole food sources like salmon or mackerel, walnuts, chia, hemp/flax

Protect skin: Apply a non-toxic sunscreen everyday

Remove makeup each night

Cleanse face 1-2 times a day using non-toxic skincare products
I noticed this product is vegan, doesn't collagen come from animals?
glow is not in fact a collagen product, it actually includes superfoods that help to support the body's own natural collagen production. Superfoods such as amla powder, rosehips and aloe all promote collagen synthesis. Collagen is a necessary protein in the body, however, our body's natural collagen production naturally begins to slow as we age so it is important to give the body the appropriate building blocks to aid in production.