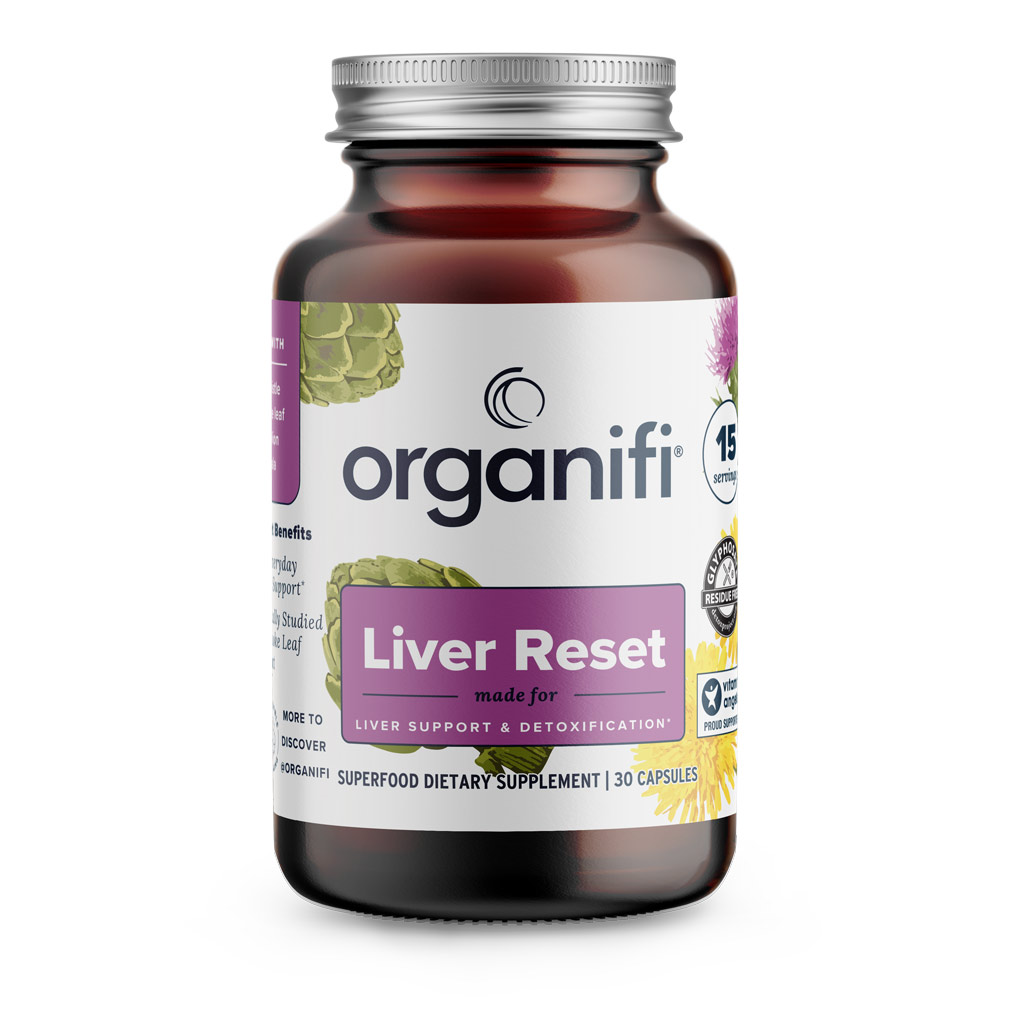 CONSUMPTION INSTRUCTIONS
As a dietary supplement for adults, take 2 capsules daily with 8 oz of water, or as directed by a healthcare professional.
Servings Per Container: 15
Time of day: Morning or evening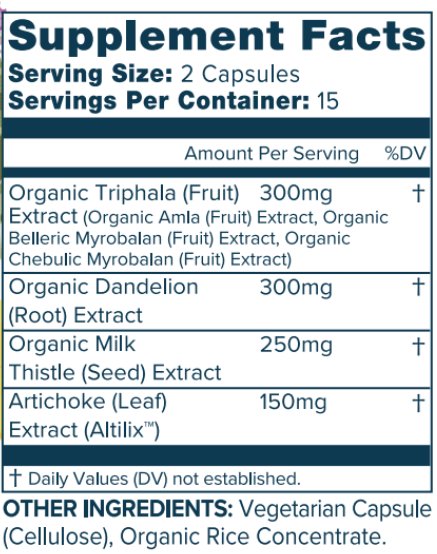 INGREDIENTS

Milk thistle, Artichoke Leaf Extract (Altilix), Dandelion Root, Triphala
Certifications: Vegan, Kosher, Dairy-Free, Gluten-Free, Soy Free, Allergen Free
liver reset FAQ
What is the best way to use my product/recommended dosage to get the most out of it?
liver reset is a combined blend of clinically studied ingredients that use modern science and Ayurvedic intelligence to deliver a potent blend that supports the liver. We are constantly surrounded by various toxins that tax our liver. Non-organic food and beverages, household products, medications, environmental toxins from outdoor & indoor pollution, alcohol and even tap water are just a few of the many toxins we are exposed to on a daily basis. The liver is responsible for numerous functions in the body such as aiding in digestion, supporting the immune system, storing vitamins and minerals, regulating energy and detoxifying the body. It's important to support the liver daily and even more so if you have recently been off track with your normal eating habits, consuming alcohol or find yourself in an environment that is heavily polluted.
What results can I expect from liver reset?
liver reset supports the liver's detoxification processes and the liver's role in cellular energy production. By supporting our liver, we also are supporting our brain health, gut health, immune system, blood sugar levels and our heart. When using liver reset regularly you may start to notice any of the following:
Less Digestive issues such as bloating, gas, acid reflux or heartburn

Stronger Immune system

Clearer Skin

Easier to focus throughout the day

Feeling more energized
Are there any additional lifestyle recommendations to accompany liver reset to maximize the benefits?
Yes! If you are looking to make a positive and long term change to improve the health of your liver, we always recommend incorporating other healthy lifestyle habits along with Harmony. Adding in at least one or more of the following lifestyle recommendations may enhance the benefits.
Drink 8 glasses of clean water daily (12-24 oz right when you wake up)

Reduce amount of sugar/processed foods in diet (stressors)

Try to eat organic whenever possible

Incorporate movement daily

Incorporate dry brushing to stimulate the lymphatic system

Avoid using toxic personal care products

Reduce stress as much as possible