Consumption Instructions
Take 2 capsules daily with 8 oz of water for up to 2 weeks when you begin to feel under the weather.
Servings Per Container:
15
Additional Details:
Time of day: Morning, mid-afternoon and/or during times of desired benefits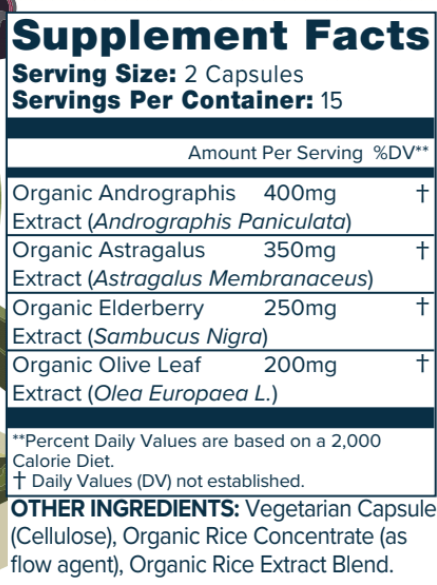 INGREDIENTS
Organic Adrographis Extract, Organic Astragalus Extract, Organic Elderberry Extract, Organic Olive Leaf Extract
Certifications: USDA Organic, Vegan, Kosher, Dairy-Free, Gluten-Free, Soy Free, Non-GMO, Glyphosate Residue Free
critical immune FAQ
What is the best way to use critical immune?
As a dietary supplement, take 2 capsules daily with 8 oz of water for up to 2 weeks when you begin to feel under the weather, wake up feeling tired, achy or have a sore throat, or if you have recently been exposed to someone who has a cold or flu.
What results can I expect from critical immune?
critical immune is a convenient encapsulated blend of potent herbs designed to take for immediate onset of acute illness such as a cold or flu. The herbal extracts will help you to feel better fast and will bolster your immune response for acute immune support.
Are there additional lifestyle recommendations to accompany critical immune to maximize the benefits?
Yes! There are a number of additional lifestyle recommendations that we suggest to help support your immune system and protect you from all the bad bugs. We recommend incorporating at least one or more of the following:
Drink plenty of water daily (a minimum of 8-10 glasses of filtered water)

Cut out processed foods and sugar

Include Organifi Immunity daily

Include immune boosting homemade broths

Get a minimum of 7-9 hours of sleep

Load up on a nutrient dense diet rich in greens, vegetables, fruits, nuts and seeds that are rich in Vitamin A,B, C, E and Zinc

Reduce alcohol consumption

Include a probiotic daily
What is the difference between immunity and critical immune?
To put it simply, immunity helps keep the cold and flu bugs from getting in. critical immune helps get rid of bugs that are already there.
critical immune is a convenient capsule that is fast-acting, and designed for the initial onset of symptoms. It contains four potent herbal extracts for increased defense. This is the ultimate immune protecting formula during times that really matter.
Here's a quick reference:
critical immune
Acute Immune Support
For Onset of Symptoms
Fast-Acting Immune support
Herbal Extracts to Feel Better Fast
Easy Capsule Form
Occasional Immune Boost
Potent Herb Blend
Synergistic Cold & Flu Support
immunity
Daily Immune Support
Supports Overall Immunity
Whole Food Vitamins D & C for Added Defense
Delicious Orange Juice Blend
On-the-go Superfoods
Synergistic Cold & Flu Support
Can I take this product everyday long term?
We recommend keeping critical immune on hand in your medicine cabinet for the times when you start to feel like you are coming down with something. It is intended to be taken short term when you begin to feel under the weather (which is when it is most critical). Although using critical immune long term will not be harmful, you may build up a tolerance to some of the superfoods and they won't be quite as effective for times when you need.