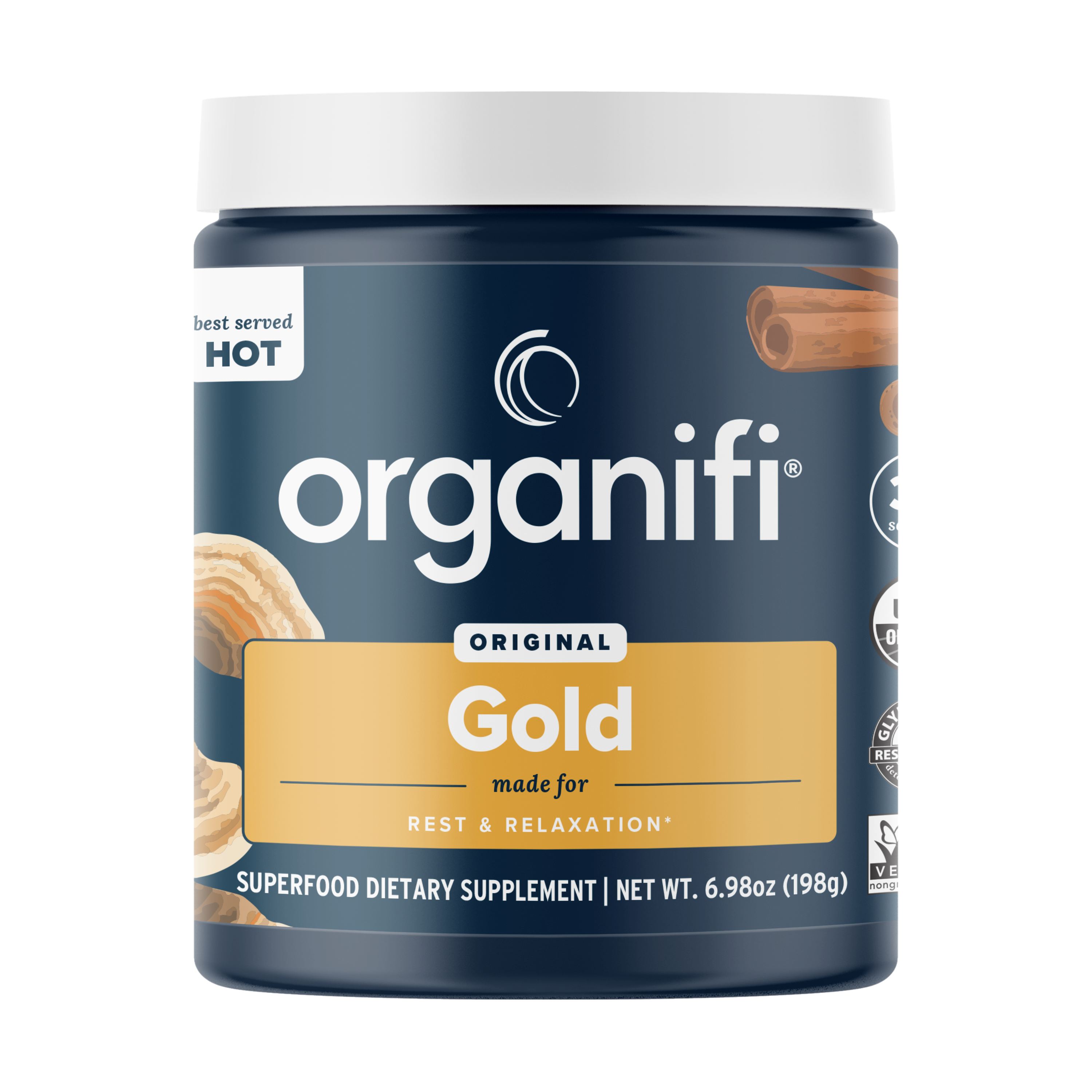 Consumption Instructions
Add 1 serving with 8-10 oz of warm water or combine with beverage of choice.
Servings Per Container:

30
Additional Details:
Time of day: Evening and/or during times of desired benefits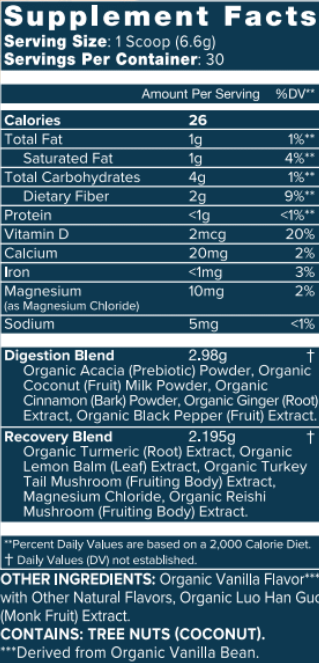 INGREDIENTS
Organic Acacia Powder, Organic Coconut Milk Powder, Organic Cinnamon Powder, Organic Ginger Extract, Organic Black Pepper Extract, Organic Turmeric Extract, Organic Lemon Balm Extract, Organic Turkey Tail Mushroom Extract, Magnesium Chloride, Organic Reishi Mushroom Extract, Organic Vanilla Flavor with Other Natural Flavors, Organic Monk Fruit Extract.

Certifications: USDA Organic, Vegan, Kosher, Dairy-Free, Gluten-Free, Soy Free, Non-GMO, Glyphosate Residue Free
When is the best time to take gold?
Taking gold in the evening after a meal or a few hours before bed will help set your body up to switch from a sympathetic (stress state) to parasympathetic (rest and relax state). A warm cup of gold mixed with hot water or milk/milk alternative can give the body a sense of comfort and ease, allowing the body to fall asleep more easily.
Simply add 1 serving (1 scoop) to 8-10 oz of water or combine with your beverage of choice (milk, milk alternative or sparkling water are some of our customer favorites), mix & enjoy the superfood benefits!
What results can I expect from the gold?
(Results and timeframe of results may vary and are unique to each individual)
Using the product consistently will yield the best results.
gold gives you powerful superfoods to help you relax so you can wake up feeling refreshed and energized. It supports rest & relaxation, a healthy immune response and a healthy response to stress! With consistent use, you may start to feel any of the following benefits:
Sleeping better throughout the night

More energy throughout the day

Feeling less stressed throughout the day

General well being-feeling more balanced

If you get consistent quality sleep, may lead to:

Hormonal balance

Better Immune Function

Less energy/craving ups & downs throughout the day

Better mental clarity/focus/concentration→ productivity

Better mood

Weight Management

Improved liver function
Are there any additional lifestyle recommendations to accompany the gold to maximize the benefits?
Absolutely! If you are looking to make a positive and long term change to improve your health to support rest and relaxation, we always recommend incorporating other healthy lifestyle habits along with gold in order to enhance and expedite the benefits. We recommend adding in at least one or more of the following:
Turn all bright lights in the house down, use candles, red lights, warm lights, avoid any fluorescent lights

Cut out devices at least 1 hour before bed or turn on airplane mode (this includes phones, tablets, tv, computers)

Incorporate meditation into the evening

Avoid exercising in the evening/right before bed

Avoid high carb/sugary desserts that may cause blood sugar/cortisol to raise in the evening, disrupting sleep

Incorporate journaling/gratitude practice in the evening, reflecting back on all the things that brought you joy/happiness throughout the day

Read before bed (an actual book) not on a tablet

Snuggle with your loved ones (partner, kids, fur babies)
What type of cinnamon is in the gold?
We use an organic ceylon cinnamon in all of the varieties of gold.
What is the difference between all 3 of the golds?
All of the variations of gold have the same benefits and foundational 9 superfoods that support rest, relaxation and immunity. The main difference is simply the flavor profile. We have made seasonal variations of Gold that can be enjoyed throughout special times of the year.
Limited edition gold pumpkin spice is a mindful treat to enchant your evening ritual. This adaptogenic blend combines 4,000 years of ayurvedic wisdom with the autumn taste you know and love. Medicinal mushrooms, restorative herbs, and nostalgic spices work in synergy to calm your nervous system, replenish antioxidants, and curb nighttime cravings.
Limited edition gold chocolate is available in the winter and has the addition of organic cocoa. Replace Gold Chocolate for your hot chocolate for a guilt free sweet treat!