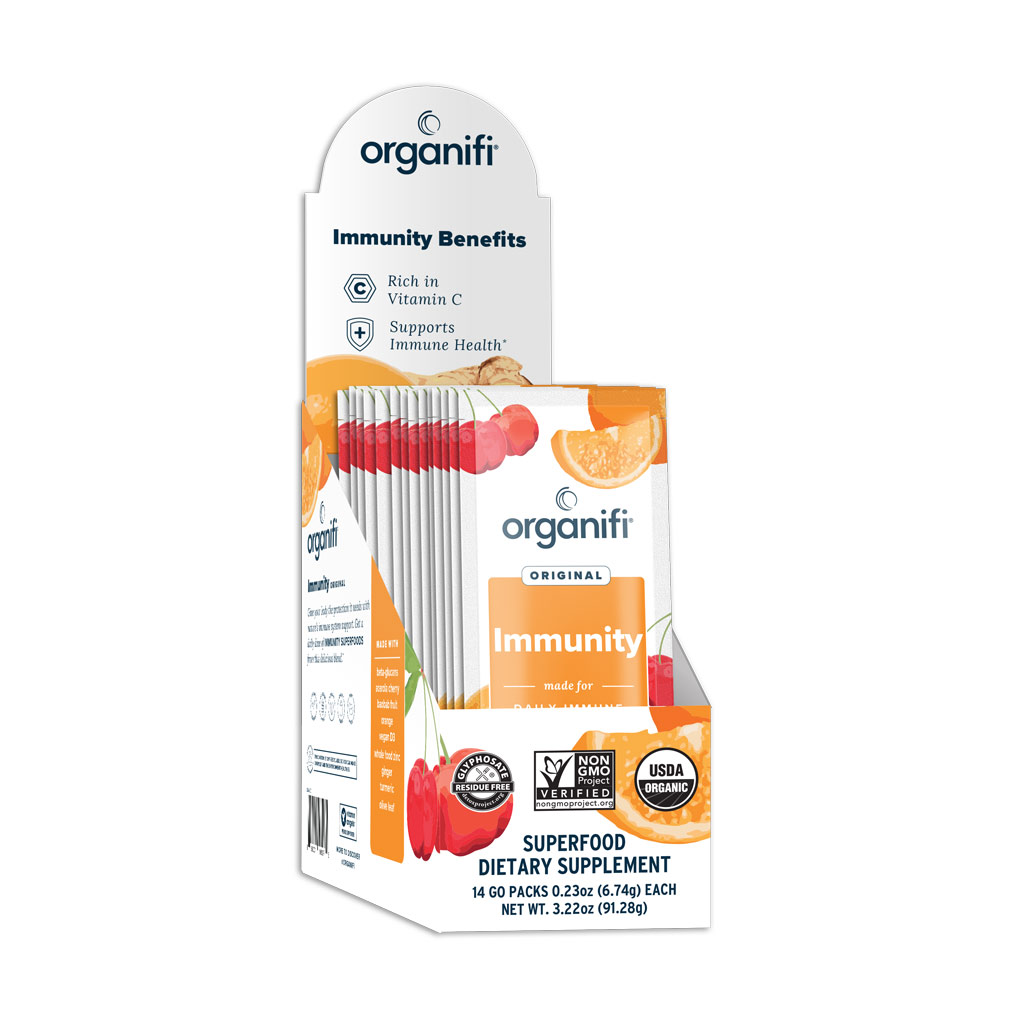 Consumption Instructions
Add 1 serving with 8-10 oz of water or combine with beverage of choice.
Servings Per Container:
14
Additional Details:
Time of day: Morning, mid-afternoon and/or during times of desired benefits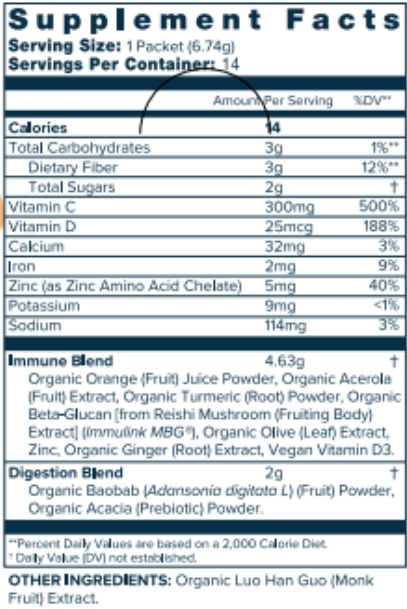 INGREDIENTS
Organic Orange Juice Powder, Organic Acerola Extract, Organic Turmeric Powder, Organic Beta-Glucan, Organic Olive Extract, Zinc, Organic Ginger Extract, Vegan Vitamin D3, Organic Baobab Powder, Organic Acacia Powder, Organic Monk Fruit Extract.
Certifications: USDA Organic, Vegan, Kosher, Dairy-Free, Gluten-Free, Soy Free, Non-GMO, Glyphosate Residue Free
immunity FAQ
When is the best time to take immunity?
immunity was designed to give your body essential nutrients to help keep the immune system strong and smart. It delivers essential nutrients to the body such as Vitamin C, Vitamin D, Zinc, and mushroom beta-glucans. immunity can be taken every day especially during times that you are traveling, during winter months when Vitamin D levels drop and also during cold and flu season.
Add 1 serving (1 packet) to 8-10 oz of water or combine with beverage of choice, mix & enjoy the superfood benefits!
Q: What results can I expect from immunity?
immunity is a delicious orange blend that gives your body the protection it needs with nature's daily immune system support. Contains 500% of the recommended daily value of vitamin C, D3 and Zinc to support a healthy immune response. Immunity will help you feel better faster and if you are already starting to feel sick, you should notice a slight boost in energy.
Q: Are there any additional lifestyle recommendations to accompany immunity to maximize the benefits?
Yes! There are a number of additional lifestyle recommendations that we suggest to help support your immune system and protect you from all the bugs going around.
Drink plenty of water daily (a minimum of 8-10 glasses of filtered water)

Cut out processed foods and sugar

Include immune boosting homemade broths

Get a minimum of 7-9 hours of sleep

Load up on a nutrient dense diet rich in greens, vegetables, fruits, nuts and seeds that are rich in Vitamin A,B, C, E and Zinc

Reduce alcohol consumption

Include a probiotic daily

Include Organifi Critical Immune at the first onset of symptoms
What is the difference between immunity and critical immune?
To put it simply, immunity helps keep the cold and flu bugs from getting in. critical immune helps get rid of bugs that are already there.
critical immune is a convenient capsule that is fast-acting, and designed for the initial onset of symptoms. It contains four potent herbal extracts for increased defense. This is the ultimate immune protecting formula during times that really matter.
Here's a quick reference:
critical immune
Acute Immune Support
For Onset of Symptoms
Fast-Acting Immune support
Herbal Extracts to Feel Better Fast
Easy Capsule Form
Occasional Immune Boost
Potent Herb Blend
Synergistic Cold & Flu Support
immunity
Daily Immune Support
Supports Overall Immunity
Whole Food Vitamins D & C for Added Defense
Delicious Orange Juice Blend
On-the-go Superfoods
Synergistic Cold & Flu Support
Can I take immunity daily?
Yes! And we recommend taking Immunity daily during times when you may be more susceptible to illness such as traveling, visiting with friends or family members who have recently been sick, in the winter months when Vitamin D levels tend to drop and during cold and flu season!