Add 1 serving with 8-10 oz of water or combine with beverage of choice.
Servings Per Container:

30
Time of day:

mid-afternoon and/or during times of desired benefits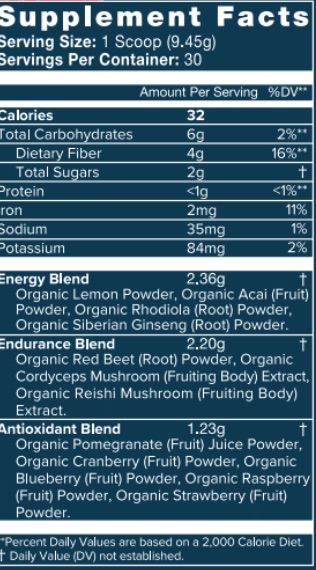 Organic Lemon Powder, Organic Acai Powder, Organic Rhodiola Powder, Organic Siberian Ginseng Powder, Organic Red Beet Powder, Organic Cordyceps Mushroom Extract, Organic Reishi Mushroom Extract, Organic Pomegranate Juice Powder, Organic Cranberry Powder, Organic Blueberry Powder, Organic Raspberry Powder, Organic Strawberry Powder, Organic Prebiotic Powder, Natural Acai Flavor with Other Natural Flavors, Organic Monk Fruit Extract.

Certifications USDA Organic, Vegan, Kosher, Dairy-Free, Gluten-Free, Soy Free, Non-GMO, Glyphosate Residue Free

red juice FAQ
When is the best time to take red juice?
This fruity, refreshing superfood blend is designed to re-energize your body and mind with a wave of nourishing antioxidants. These fruits, herbs, and medicinal mushrooms work together to replenish your energy and lift your mood. We recommend drinking red juice in the morning or in the afternoon to recharge your body!
Simply add 1 serving (1 scoop) to 8-10 oz of water or combine with your beverage of choice (milk, milk alternative or sparkling water are some of our customer favorites), mix & enjoy the superfood benefits!
What results can I expect from red juice?
Results and timeframe of results may vary and are unique to each individual)
Using the product consistently will yield the best results.
Feeling refreshed and alert when waking up in the morning
Don't feel the need to grab for that caffeinated beverage after lunch
No longer feeling energy spikes and dips
More energy throughout the day
Better mood: Coffee and caffeine tend to give us the "quick fix". We feel great NOW, but have a crash later leaving us dependent on external sources for energy. If we don't have access to coffee/caffeine, this can leave us not only feeling groggy or tired but also more irritable.
Feeling less stressed throughout the day (sugar or excessive caffeine can give you the jittery feeling)
General well-being and feeling more balanced
Consistent stable energy
Less dependent on caffeine
Are there any additional lifestyle recommendations to accompany the red juice to maximize the benefits?
Absolutely! If you are looking to make a positive and long term change to improve your energy levels, it is important to incorporate other healthy lifestyle habits along with the Red juice. We recommend adding in at least one or more of the following to really enhance and expedite the benefits that you may experience
Drink at least 8-10 glasses of filtered water daily
Reduce amount of sugar/processed foods in diet
Try to buy organic whenever possible
Limit amount of caffeine throughout the day
Incorporate some form of daily movement
Stop hitting snooze on alarm clock in the morning- sets you up for cortisol spikes
Find a morning/evening routine or ritual
Get out in nature as much as much as possible
Does red juice contain caffeine?
red juice contains no caffeine even though the benefits of the red juice help with energy! red juice was formulated with no caffeine which means less jitters for you. Feel a natural boost in energy coming from the potent superfoods such as cordyceps, rhodiola and siberian ginseng.